A Blog from GradHacker and MATRIX: The Center for Humane Arts, Letters and Social Sciences Online
Title
2017 Holiday Gift Guide
Gift ideas for the graduate student in your life.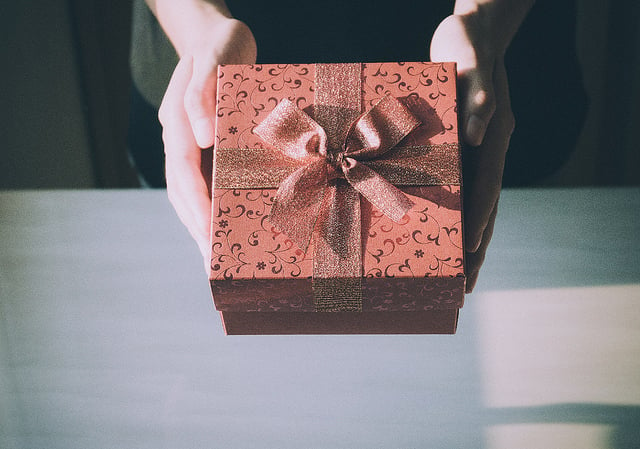 Between studying for exams, TA-ing, freaking out about the job market, and writing a dissertation, the graduate student in your life could use a little TLC this holiday season. We at GradHacker are here to help with a few gift ideas of our own.
Heather: I never thought I would be this sort of person, but I have never loved an inanimate object like I love my Zojirushi SM-SA48-BA Stainless Steel Mug. It doesn't leak, so I can throw it into my backpack without fear, and it keeps coffee warm for a long time, so I can make my afternoon coffee in the morning. Also, I love making beer! It is tasty, creative, and a great writing break. This 1 Gallon Small Batch Homebrew Beer Kit has everything you need to get started. But I warn you: homebrewing is addictive!
Patrick: I moved into a new office in August and its main shortcoming became obvious by Halloween: no place to hang a coat! That's why I'm asking for a sturdy coat tree this year. Hanging up my coat and bag instead of slinging them over the back of a chair will make my office tidier and more inviting for anyone who might come by (especially important to any grad student with heavy office hours traffic). Plus, since it doesn't need to be affixed to a wall, I can take it with me when I next move offices and won't risk the wrath of any facilities management folks. I also have a friend who drinks her coffee out of one of these mugs, of which I am extremely jealous - I'm sure they make one for your grad student's specific field.
Alexandra: Some people need total silence to work on their writing, but I've always preferred music. One of the best gifts I've gotten was a premium subscription to Pandora. It's not something I would've spent the money on for myself (since it's not totally necessary), but getting to skip an unlimited amount of tracks, eliminating ads, and generally having greater control over the music you listen to is a game changer. You could also gift your favorite grad student a premium subscription to another music service, like Spotify or even just gift cards to iTunes, which lets you choose music, movies,TV shows, books, and more. Trust me, they will be grateful for the procrastination entertainment.
Charlena: For me to be able to get work done, I need to be able to see my entire week. This is why I'm a big fan of planners and desk calendars! I know we have apps like Google calendar, but being able to touch and write down my ideas, make changes, and add visual enhancements like stickers or bright colors makes it seem more realistic and easier to swallow. Mochithings has a wide range of planners and stationery. Also, bullet journals have been really helpful for me to track my health in graduate school. Any nice clean journal can be used for this, but I like the Moleskine dotted journals best. Having a snapshot of my month is helpful in making changes where needed. Visa gift cards are always nice and helpful, especially when you're low on food or need to get toiletries! Lastly, ask graduate students for their Amazon wish list - these can be full of ideas like books needed for research or other items they've had their eye on!
Neelofer: The academic life certainly takes a toll on one's body whether that has to do with finding a healthy diet, get enough exercise, or find ways to unknot all the tension (in your neck, shoulders, back, or wherever else). Two things I use and highly recommend are a theracane and massage cups. Both are easy to use and come with guides for first time users. Another really important part of my writing life is the space in which I work and little rituals that make it an inviting space: I love having a candle not only for the warm light it gives off, but also for aromatherapy. I recommend HiWildflower's scented candles for a splurge, or if you want the warm glow without the scents, Target's Threshold unscented ones. There are also these prayer-style candles featuring a favorite writer or musician for a little inspiration.
Deidra: I'm publicly announcing my addiction to the "Mission Control" Internet alternative radio channel on SomaFM.com, which melds NASA's mission audio transmissions to ambient music. I always listen to it when I'm in my research and writing zone and I swear that it helps me concentrate better. Or you may wish to encourage stressed grad students to bliss out to the website's 30 other San Francisco-based channels that play dubstep, indie pop, folk, rock, and other diverse underground music and sounds, some cerebral, some quirky. The other hip grad students on your list deserve this free app. As an accompaniment, I recommend these wireless headphones that have served me well over the years, and, once you've closed your eyes, and have tuned into "Mission Control," they'll have you believing you're on the Space Shuttle or historic Apollo 11 mission.
Brady: I think one of the best gifts for graduate students is a Book of the Month subscription. As grad students, we tend not to invest in reading for pleasure (in terms of either time or money), but a BOTM subscription is the perfect excuse to put aside research and grading and pick up something fun at least once a month. In terms of more practical items, Scrivener, a writing software package, is great for those in the throes of dissertation writing (and has both Mac and PC options), and these fancy adjustable-brightness desk lamps are a real eye saver.
Ingrid: A padfolio! I like this one from Amazon, and there are plenty of other affordable options that offer plenty of storage space while still looking sleek. Padfolios will come in handy at job fairs, interviews, or conferences, where you may want to bring a lot with you without lugging around a heavy bag. I also suggest Muji's pens and notebooks. Muji's stationary is very high quality, and their notebooks are very small and light - I take mine with me everywhere.
Megan: A nice desk chair or back support would be amazing for students who, like me, spend the majority of their time sitting at their computer. There are some budget versions on Amazon that would suffice but, if you're looking to really love your favorite graduate student, splurge on an ergonomic chair. Subscription services or boxes are also a great idea. Things such as a meal kit service or customized shampoo are fun additions to a graduate student's daily life that they may not have the budget for otherwise. I'm also a big advocate for gifts that encourage students to have some fun. Gift us tickets to a concert or adventure park, or you could upgrade a piece of gear we use for hobbies such as nicer paint brushes or a lightweight backpacking pot.
[Image by Many Wonderful Artists and used under public domain.]
Opinions on Inside Higher Ed
Inside Higher Ed's Blog U