market-your-institution
Market your institution to the engaged professionals gathering at Inside Higher Ed
Think the only way to spotlight your institution to the leaders and influencers in the higher education community is expensive print advertising?
Think again.
At Inside Higher Ed you'll find breaking news, lively commentary and thousands of job openings absolutely free. That's why more college faculty, administrators and executives get their higher education news from Inside Higher Ed than from any print publication. And that's why Inside Higher Ed is rapidly becoming the best way to market your institution to top talent in higher education.
Samples of successful campaigns from the pages of Inside Higher Ed: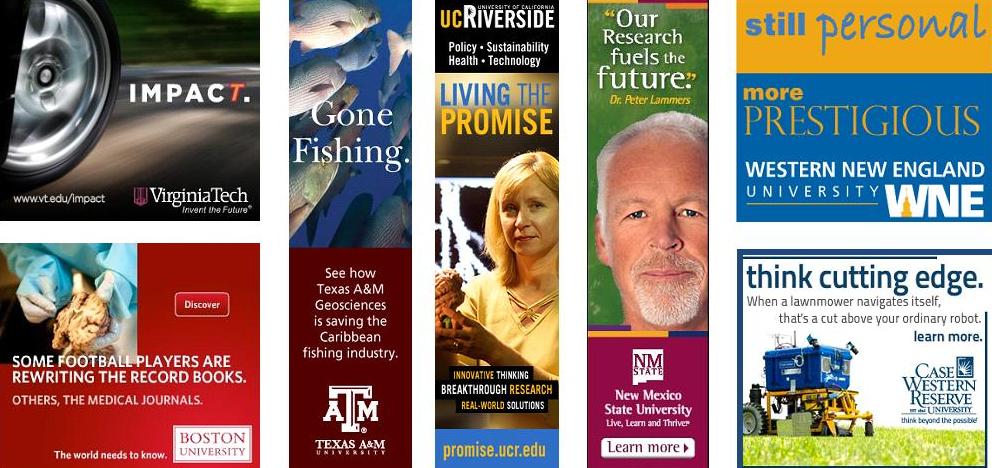 Inside Higher Ed has more than 1.1 million unique visitors coming to the site each month, generating more than 2.75 million page views. To engage this influential audience we offer prominent banner ad sizes (300x250 and 160x600) that run throughout the site. View our home page and story-level pages for more ad examples.
Run of site banner ads - $45 CPM (cost per thousand impressions)
Inside Higher Ed sends a Daily News Update e-mail to more than 97,000 opt-in subscribers each morning (Monday-Friday), and this highly anticipated e-mail contains three banner ads (300x250). Click here to see a sample of today's Daily News Update.
Daily News Update banner ads - $6,000 per week ($6,600 to guarantee top position)
To download our online advertising specifications in PDF form Click here
For more information or to request an advertising proposal, please contact Todd Thompson, Account Manager, Institutional Branding, +1 (202) 448-6137 or todd.thompson@insidehighered.com
International advertisers (outside of the U.S. and Canada) please contact Svitlana Barnes in our London office at +44 (0)7746 184 945 or svitlana.barnes@insidehighered.com