A California city makes a pitch for a new engineering campus at the American Council on Education's annual meeting.
SAN DIEGO -- It was schmooze time Sunday evening here at the annual meeting of the American Council on Education, the national association for higher education. Drinks and appetizers in hand, attendees milled around the various vendor-sponsored booths in the exhibit hall. One booth in the corner advertised the virtues of Carlsbad, Calif.
Kathryn B. Dodson, Carlsbad's assistant city manager, was there to represent the city, which is 35 miles up the Pacific coast from here. Her pitch? Carlsbad wants a graduate-level engineering university.
The booth was certainly unusual, and perhaps the first of its kind at a council conference. It also appeared to be paying off.
"We have had some interesting conversations," said Dodson, who holds a Ph.D. in parks, recreation and tourism management.
Carlsbad's need for an engineering school is urgent, she said. The city's population of 110,000 is growing rapidly. And the many defense contractors and 500 high-tech companies in its backyard are desperate to hire more engineers.
There are plenty of colleges and universities in the region. California State University at San Marcos is the closest four-year institution. But only one in the area -- the University of California at San Diego -- falls into the Carnegie Foundation's category for "very high research activity," which Dodson calls "crazy" for a metro area of three million people.
"They just can't produce enough engineers," she said.
So, about two years ago, leaders of Carlsbad's City Council decided to try to bring a university to town. They hired a consultant to help study the issue. Dodson said city officials looked at the process through which New York City in 2011 selected Cornell University for a science and engineering campus on Roosevelt Island. However, Dodson acknowledged that Carlsbad doesn't exactly have the deep pockets of former NYC mayor Michael Bloomberg. 
Carlsbad's leaders say they are open to almost any arrangement that will yield a top-notch engineering university -- including a consortium of institutions. That includes public and private colleges.
"We have not been looking at for-profits," Dodson said, mostly because the council is skeptical that a for-profit will have adequate experience running a selective graduate-level engineering program.
City officials took note of recent moves by Drexel and Northeastern Universities to consider or actually develop new campuses in the West. Dodson said an entrepreneurial private college could work for Carlsbad.
Dodson is aware that colleges in the Midwest and Northeast are getting more aggressive about recruiting students from California and other high-growth areas, like Texas and Georgia. That includes public institutions. And tight state budgets and tuition crunches have encouraged colleges to be more open to unusual entrepreneurial relationships.
Getting one of the state's two big public university systems, California State University or the University of California, to open a new institution in the city would be tricky, according to Dodson. Carlsbad lacks the zoning and infrastructure for an undergraduate institution. And the political minefield of California's higher education systems might not allow Carlsbad to move as quickly as its leaders would like with a new campus.
Even so, Dodson said the city is just beginning its search for a higher education partner, with a broad marketing push to come. Carlsbad is all ears, as long as the interested college wants to align its work with the needs of the city's employers.
Carlsbad is offering a vacant 129,000-square-foot building in a centrally located office park as part of the deal. The 13-acre property, which the city owns, could be leased to a university or a consortium.
Dodson kept coy about which institutions might have expressed interest during the meeting here. But she said several faculty members had stopped by the booth to ask, "Where do I sign up?" The draw for professors, she said, was Carlsbad's seven miles of beach, along with other lifestyle perks.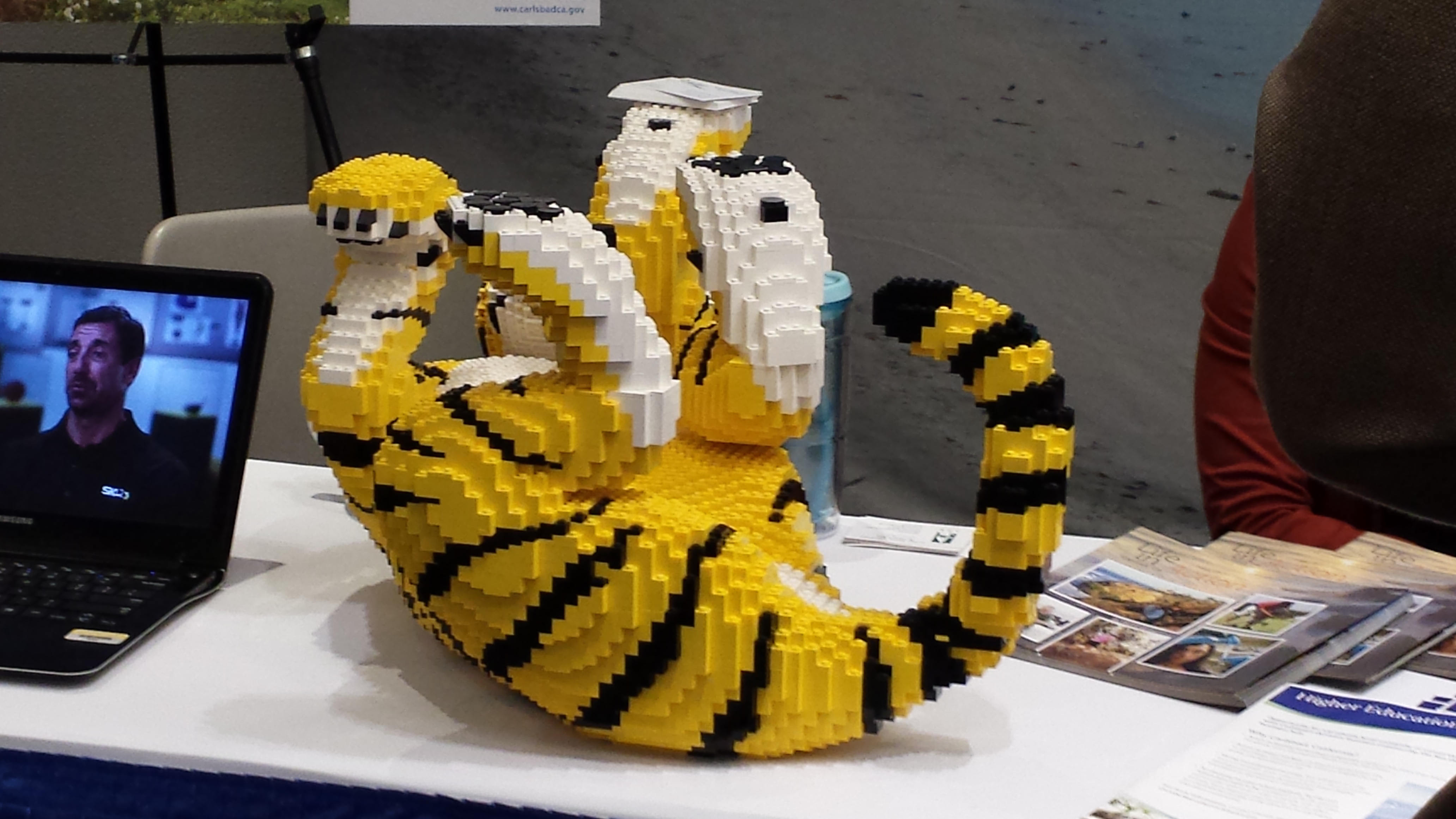 Attracting perhaps the most attention at the Carlsbad corner here, Dodson acknowledged, was a large Lego sculpture of a tiger lounging on its back. It wasn't a pure gimmick, as Carlsbad is home to one of the toy company's Legoland theme parks. And a robot was used to help design the sculpture.
But even without the tiger, Dodson was confident that Carlsbad would get interest from conference-goers and others around the academy. That's because California is attractive to colleges looking for students and employer partnerships.
"I don't care what anyone in Texas says about California," said Dodson. "Our population is growing. Our businesses are growing."