Digital Learning
Grand Canyon University's for-profit spin-off takes a bold step into the online program management space with acquisition of Orbis Education.
Recent Articles
As concerns about outsourcing ring out across online education, several institutions have carved out niches by developing in-house capacity that resembles OPM functions.
Recent Articles
Surveys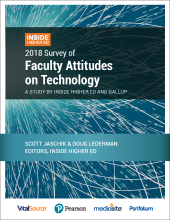 Blogs
Online: Trending Now
Ray Schroeder offers tips on creating an online vision framework for your unit and university.
Online: Trending Now
Quantum computing will burst onto the educational technology scene. Are you preparing now?
Online: Trending Now
U.S.-China conference highlights similarities among innovators in ed tech around the world. How should colleges react?