The STEM pipeline starts in elementary school and extends through the professoriate and the rest of the workforce. Most experts in higher education believe that American higher education and industry would benefit from many more people trained in science, technology, engineering and mathematics fields. Inside Higher Ed editors Scott Jaschik and Doug Lederman discuss these issues in this free webinar. 
Click here  [1]to download the accompanying slide deck, and visit insidehighered.com/booklets [2] to download The Stem Pipeline, a free booklet of news articles on this important topic. 
Inside Higher Ed's The Stem Pipeline webinar is made possible with the support of E [3]TS [3]. 
Image: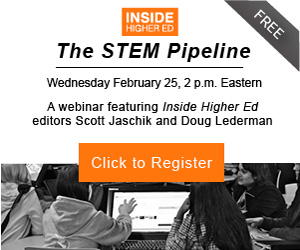 Event's date:
Wednesday, February 25, 2015 - 2:00pm