The student body – and potential student body – for American higher education is changing in dramatic ways. No longer can colleges assume a steady supply of well-prepared high school graduates capable of enrolling and of paying. Likewise, no longer can colleges assume that employers will believe a college degree means that someone is ready for a job. This webinar will explore the changing demographics of students and the new ways colleges are trying to recruit, and the demands for better alignment between student capabilities and workforce needs. Before attending the webinar, we invite you to download our free booklet, Emerging Markets, Emerging Strategies [1], a compilation of articles and opinion essays from Inside Higher Ed offering a range of ideas and perspectives.
Download the accompanying slide deck here [2].
Inside Higher Ed's Emerging Markets, Emerging Strategies webinar is made possible with the support of Workday.
Image: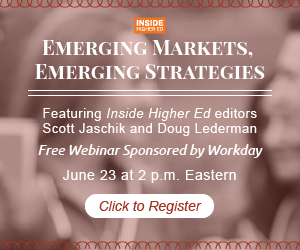 Event's date:
Monday, June 1, 2015 - 12:00pm