To say that beginning writers resist revision is a redundancy. If they understood its necessity they'd already be unbeginners. Writing teachers ease them into it by telling them to do a "Save As" with their documents, so they'll always have the original drafts to go home to. Nothing is lost, we say, and it'll be okay.

Older writers too sometimes abandon revision at the very moment frustration with not knowing might have led to a breakthrough. We toss aside drafts in a heat-panic, like throwing off blankets in the middle of the night—get off me, we cry.

None of us know the scope of the task when we start. But getting to know the sentences' landscape and people is necessary, and all we can do is stick with it. In reality, there's no going back.

***

My friend Crazy Larry [2] called from Chicago to say he's been trying to imagine my new life in Louisiana. His mental draft was pretty vague—that rural area down there, he said, fieldhands and old cars like you'd see in Havana—and I let it go on for a while, since he was amusing. When I said he was completely wrong he demanded a truth, if his wasn't it.

Certain facts come easy, such as the population of Lake Charles (71,000) and the greater metropolitan area (200,000). There's a state uni and a community college, a Carnegie library in a good parish system, several museums, any number of good restaurants, and a river that flows down through three lakes to the Gulf of Mexico, 30 miles away. It's Acadiana [3].

But my impressions are still like coddled eggs, unset and easily-broken. Our priorities have been to care for the family, get moved in, and learn new jobs, so we don't know much about the region, haven't taken long drives or even been to any festivals, though Lake Charles is called the Festival Capital of Louisiana. I never know the places that students name when I ask where they're from. The pharmacist, letting a long line of customers build behind me, patiently explains—twice—how to get to the road headed south out of Baton Rouge—he begins to draw a map—that has all the former plantations—the phone rings and the drive-through buzzes but he carries on—and insists we stop at the one French bakery—the creme puffs are good, but oh lord he could just eat the bread for dessert—that outranks all the rest.

***

I can tell you about Sale Road and Ryan Street, down which I commute among expensive ¾-ton pickups with crew cabs and dualies. I know the part of campus where I do business, the supermarket where I'm told the rich people shop, and across the street, the mini-storage with our stuff in it. A quarter mile further on there's a bakery with delicious donuts, King Cakes, and triple-sized, after-school snowcones.

I'm also getting a feel for the new house. Not the exterior, yet, with its little Asian-inspired gardens inside brick screening walls set with wrought gates, all of which Starbuck says will be useful in the zombie apocalypse. Most of my time is spent inside, so I'm starting to know the noises the house makes, and how the light shifts around through the day. Geckoes gather after dusk on the outside of windowpanes to eat bugs attracted by our lights. They present their most vulnerable side, pale bellies and delicate toe pads, and in return our indoor cats jump at them in vain and drag things—tomatoes, sink strainers, brushes, grocery receipts, books—off sills and counters as they fall madly back.

A few of the lizards, having stared through the windows for so long, decide to run in on the hinged side of doors when they open. Some of them pause, fatally hesitant to commit to one life or the other, and are crushed between jamb and door when it closes. They dry there, colors preserved and shapes surprisingly intact, like pressed flowers. You'd need a paint scraper to get them off now, since the former owner obviously never bothered, and a couple dollars in postage to mail them to Crazy Larry, with a nice note saying have some Louisiana jerky. My sons, horrified at first by the evidence of these accidents, have a sound now to accompany the sight of them stuck to the wood: HUNH!, they shout, stretching themselves rigid and bug-eyed—presumably the last thing a lizard does when surprised at finding itself in a new place with unknown forces closing in.

***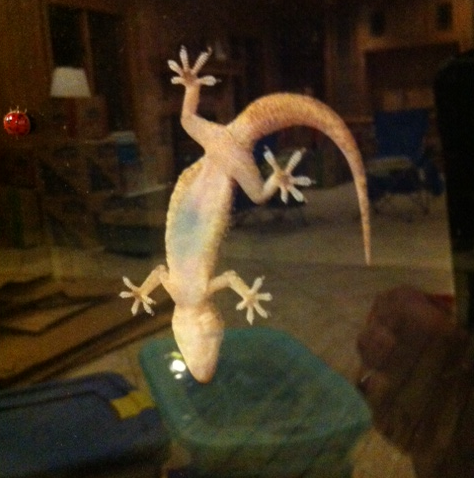 When I compare Lake Charles to other places I've known—let's say, Schaumburg, Illinois, which is not too far from Larry's house—there's not the same infrastructure or material culture, so it obviously feels much different. In Schaumburg, which is organized around its mega-mall—"Get the 411… Woodfield has the finest collection of department stores and specialty shops in the Great Lakes region"—all that money has been poured into a frozen tidal wave of concrete and consumerism. It's solid, settled, made. One must have money to participate, and then only in specific rigid roles.

Here, things feel more open. There's a nice downtown and boardwalk (renovated with hurricane money), a mall, strip malls all over town, scattered big-box stores, bars, churches, parks, hospitals, stadium, but no central point where everyone is channeled for gain. (Not even the university.) (Also not even the casinos, which are surprisingly marginalized.) There are a few tall buildings but lots of greenery too, and nowhere the blinding glare of pavement to the horizon. There are hummingbirds in the bottlebrush trees in my circle drive, white herons on my lawn, a national wildlife refuge south of town.

"Biomass," the poet's friend said with a sneer, his sum for all of southern Louisiana.

***

Howard Nemerov: "…the poet, if he has not attained to a belief in the existence of God, has at any rate got so far as to believe in the existence of the world; and…this, sadly but truly, puts him, in the art of believing, well out in front of many of his fellow-citizens, who sometimes look as if they believed the existence of the world to be pretty well encompassed in the sensations they experience when they read a copy of Time."

***

That may be my first true impression of Lake Charles: It exists. I thought so from the first visit, when, driving around, I felt a palpable gravity in each neighborhood or area I encountered. A pleasant, wide street of scattered old homes, many of them converted to businesses such as barber shops, gives way in a single turn to an overgrown road along the tracks, a rusty caboose converted into a take-out seafood shack, a handwritten sign out front advertising fried gar.

City streets quickly become elevated paved roads between deep ditches. The ditches drain into bayous running through the city. There are no shoulders or guard rails on most of these roads; I imagine in this open society that texters are given the freedom to run into ditches, break their heads in the crash, drown, then get eaten by beasties.

People own tools and do the work themselves, meander though their yards, gather under a spreading live oak at a barbecue stand during lunch hour. Some joke but more state calmly that they don't believe they'll live long so they plan to enjoy themselves. It's slower, apparently, this life, but what's that mean? Fatalism? Less ambition? Settledness and satisfaction?

As a newcomer, you eat the tail and suck the head [4], and then what?

The roller rink sells frozen pickle juice in little cups for a quarter. The kids lick them like popsicles.

So now you know, but what is it you know?

Before lunch (Cajun sausage and peach cobbler) Dr. Blevins gets all sly and sexy, says he knows how glad my family and I are to be here with him and our colleagues in this place at this time, and he's totally right.

***

I get the leashes to take the dogs out. The boys are half-asleep on kitchen stools, eating oatmeal. Our dog Mrs. Tolstoy, who's a cross between a Highland Cow and a water buffalo, bounces merrily, a come-hither look over her shoulder, nails clawing helplessly at the tile floor. But once outside she doesn't want to get her feet wet in the heavy dew, and I have to pull her onto the lawn, where she microsniffs every blade of grass suspiciously. I wonder how she reads this landscape. It's still dark out, but the moon is up. An owl hoots. Neighbors' houses are darker cutouts against the sky, and clouds from the Gulf cross over low and fast.

The boys get dressed, pack their backpacks, and join me outside. This is the first place they've had to ride a bus to school. I wonder if I'll embarrass them in my pajama shorts, crocs, and t-shirt; instead they ask for extra kisses to put in their pockets for later. The bus turns off the main road, strobes firing and turn signals blinking, roars over the culvert and squeals to a stop in a cloud of diesel stink at the end of our driveway.

I'm left holding the leash of Count Tolstoy and wave at the bus's darkened windows. The boys have told me I'm to stand there until the bus goes through the neighborhood and comes around again on the main road, going the other way, so the dog and I stand there in the quiet, being bitten by large black mosquitoes. Sometimes late at night a parish mosquito truck passes by with its fogger hissing, and the sound takes me back to being a kid. There was a taste to that spray. I haven't talked to Eric or anybody in my hometown in a while. It's getting light now.

Then the bus emerges down the way, gains speed quickly and roars past with its tires humming. I wave, the driver honks once, and my sons are gone a second time. It's the same every morning, except sometimes, to their great amusement, the dog is squatting as the bus comes back by, and I'm smiling hugely like a big dummy, waving my plastic-baggie glove like it's all a good time and more to come. The poop is hot and well-formed in the cold wet grass.

***

In the geography of the sentence, all you can really do is work at it, time and again, in hopes of making whatever is well-sung.