As a continuation [2] on the Foundations of Strategy theme, this post is about the supply of educational opportunities. In short, they're exploding.
There are currently over 5,000 degree-granting institutions in the United States, made up of a healthy mix of public, private not-for-profit, and for-profit schools that educate a highly diverse population and offering an ever-increasing number of programs and degrees.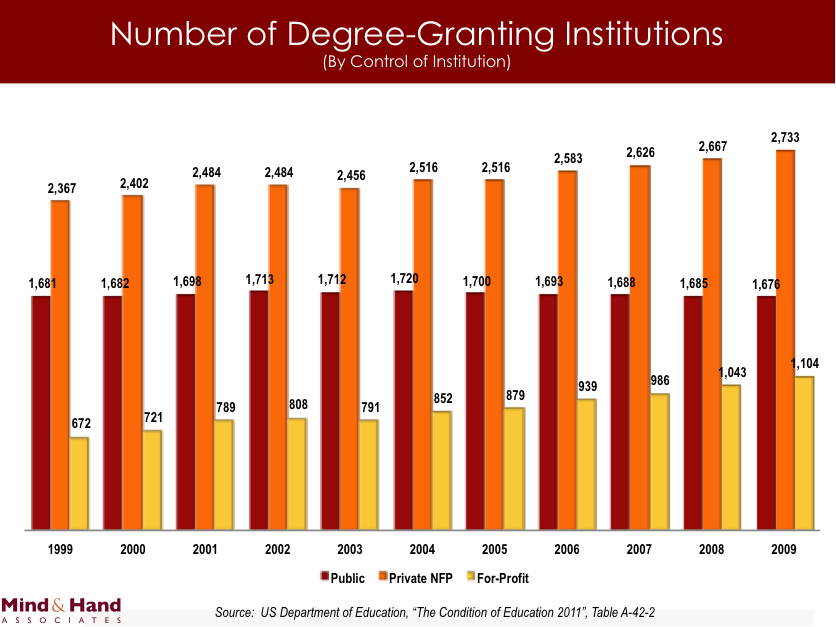 The supply of educational opportunities is increasing not only through the traditional schools and their for-profit counterparts, but also the number and types of programs (e.g., business, nanotechnology, criminal justice) and formats (e.g., on-campus, on-line – both regular and the huge/free online courses, hybrid, intensive/accelerated) have increased. And there are some new kids on the block, offering new ways of credentialing, such as where it appears the much-touted MITx [3] is headed, as well as the significant uptick in certificate programs [4].
And then there are the numerous "substitutes" for higher education mentioned in a previous post [5], such as corporate universities, training firms, joining the military, directly entering the workforce, corporate universities, training firms. Oh, and ITunesU, TED Talks, Khan Academy, a plethora of education apps, and good old books.
Add to this the potential for digital badges [6], which may allow job seekers to signal very specific knowledge or skills to employers in a way that a college transcript or certificate cannot. And many of these badges are being developed in collaboration with employers seeking these specific skills. Seems logical.
Some think that these badges have the opportunity to significantly disrupt the university model. According to U.S. News & World Report [7], "So-called digital badges could end up breaking the stranglehold that traditional colleges and universities have enjoyed in awarding credentials. Digital badges could give Americans who earn them the kind of impressive credential that a college degree has conveyed without having to go through the time and considerable expense of earning one or more diplomas."
Taken together, all of these offerings make the market appear quite saturated. And how does this relate to strategy? In formulating strategy, a schools needs to think through how what it currently offers – and what it might offer in the future – fits the needs of its intended market segment(s). And not just assume these offerings fit their needs, or hope they fit their needs, but really fit their needs. Think research. Now, think about how you can help these market segments understand the institution and how these offerings fit their needs.