Senator Elizabeth Warren's personal data dump on Monday, including the genetic nonbombshell that she is Native American [1], six to 10 generations removed, probably had more to do with her 2020 presidential ambitions than anything else. After all, the Massachusetts Democrat would face an incumbent who's called her "Pocahontas [2]," to mock her past claims about her heritage.
But the information Warren shared this week still says something -- intended or not -- about how she and society in general see underrepresented people working in academe.
"Fact: Elizabeth Warren's heritage played no role in her hiring," her new Fact Squad [3] website boldly declares in block print. It quotes a recent Boston Globe investigation [4] that found, in the newspaper's words, that Warren's "claim to Native American ethnicity was never considered by the Harvard [University law faculty], which voted resoundingly to hire her, or by those who hired her to four prior positions at other law schools. At every step of her remarkable rise in the legal profession, the people responsible for hiring her saw her as a white woman."
Driving home the point -- presumably that Warren never benefited from any hiring preference based on minority status -- Warren's website says that she graduated from the University of Houston and Rutgers University Law School to become "one of the country's top experts in bankruptcy, commercial law and the financial pressures facing working families." And those who recruited her to her teaching jobs "all confirm" that they "hired her because she was an award-winning legal scholar and professor and they were unaware of her family's heritage," it concludes.
An accompanying video [5] on Warren's site includes short interviews with noted law professors who have worked with Warren, all describing her faculty work in flattering terms and saying that ethnicity played no role in her hiring.
Warren endorsed Fact Squad on social media, saying, "I never expected my family's story to be used as a racist political joke, but I don't take any fight lying down. I want you to have the power to fight lies with the truth, so here's a new site for you to review every document for yourself."
The website includes a statement from Carlos Bustamante, professor of genetics at Stanford University, confirming that Warren is all but certainly Native American (Bustamante also makes a cameo in her video). The document has already been criticized [8] by Native American scholars who say that Warren continues to rely on a colonial, not tribal, standard of proof of heritage. But it is at least clear that this is a direct response to President Trump's antagonism and doubts about her lineage. And anticipating some of that criticism, Warren says in the video that she understands tribal distinctions about heritage, but that she is concerned about preserving the integrity of her family's history. Her late mother always said she was part Cherokee, she says.
But is the notion that racial preference may have played a role in Warren's academic success something that must be aggressively countered? It appears Warren thinks so. The video quotes Sarah Huckabee Sanders, White House spokesperson, criticizing Warren for using her background to get ahead. Warren then recounts her family and personal history and says, "I used my mama's grit to help me get through commuter college and law school" and "used my daddy's relentless optimism when I was balancing babies and books. But my background played no role in my hiring."
Many women and minority scholars say that they must constantly deal with those who doubt they've earned their academic successes. But the issue is more complicated in some ways for Native American professors. It's arguably a case of having one's cake and eating it, too: affirming one's Native American heritage but denying to have ever been professionally evaluated as a nonwhite person. And Adrienne Keene, assistant professor of American studies and ethnic studies and Brown University, and Kim TallBear, associate professor of Native studies at the University of Alberta in Canada, among others, find it distasteful.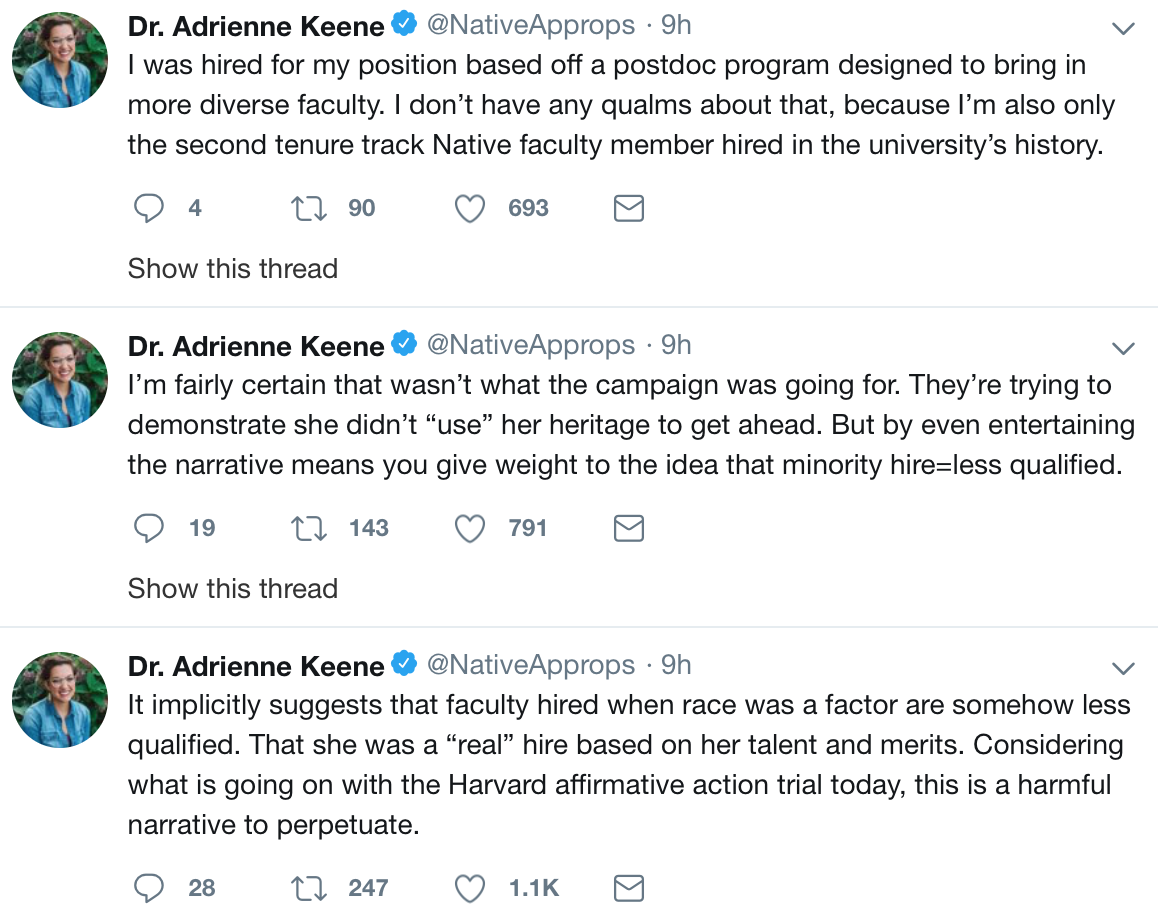 Source: Twitter
"My initial gut reaction is to feel nauseated by the entire video -- the white patriarchs sitting around the living room with Warren waxing nostalgic about family lore that actual Cherokee genealogists have refuted, and they have the documentation to prove it," TallBear said Monday evening, describing a scene with Warren's family. "And the insistence that affirmative action did not allow her to get ahead."
TallBear said she didn't know what the scene was "supposed to convey, except that those who do get hired where there is no controversy around our Native American identity -- where we have always lived as Native Americans -- are somehow unqualified, despite our considerable educational attainment."
Native Americans are not the only group to have their achievements undercut by suspicions about diversity-based hiring. It's a common problem for many underrepresented minorities, experts say. But TallBear said that Warren was guilty of the all-too-common "settler" tactic of using indigenous histories and peoples as pawns.
Tall Bear added, "This whole scene is playing out today for the benefit of everyone but indigenous people."
Crystal Fleming, an associate professor of sociology and Africana studies at the State University of New York at Stony Brook, and author of How to Be Less Stupid About Race: On Racism, White Supremacy and the Racial Divide, said in an emailed statement that while Warren "(now) positions herself as white woman with regard to her career advancement, she still does not acknowledge how her whiteness (within a settler-colonial state) informs her offensive decision to bypass Native people and the Cherokee Nation in particular, with regard to her claim to indigenous ancestry and identity." She said she deferred on that point to indigenous scholars, including TallBear.