A steep drop in the number of new University of Minnesota [1] students from outside the state and its environs has prompted the university to consider cutting back on an aggressive planned tuition increase for 2019. Minnesota's travails may also prompt state systems to consider whether improving state economies -- and more intense competition for a shrinking pool of 18-year-olds -- might be taking a bite out of their ability to rely on tuition premiums from out-of-state students.
Beginning in 2012, the university began raising tuition [2] for students who live outside Minnesota and its immediate neighbors to the east, west and north: Wisconsin, the Dakotas and Manitoba, Canada. While a long-standing reciprocity agreement [3] allows families in the region to pay in-state tuition, for those from outside this area, prices are climbing. In 2011, tuition rates for new freshmen from outside the region stood at $16,650. Seven years later, in 2018, they were $28,736, a 72 percent increase, according to university data [4].
Perhaps as a result, university officials last month told regents that Minnesota saw 26 percent fewer students from outside the region over the course of just one year -- 1,015 compared with 1,361 in 2017. The sudden drop followed what had been a steady, multiyear rise. As a result, the St. Paul Pioneer Press [5] reported, corresponding net revenue fell by about 17 percent, from $28.5 million to $23.7 million.
A planned 15 percent increase for 2019 may be on hold while President Eric Kaler recommends a more modest 10 percent tuition hike for 2019. He could face resistance in December, when regents are expected to vote on the recommendation. At least one regent has suggested that since higher out-of-region rates discourage these students from attending, that is a positive development, since it could make more room for Minnesota students -- they are, he said, more likely to stick around after graduation and boost lawmakers' support for the university, the Pioneer Press reported.
Bill Hall [6], a consultant whose office sits in the shadow of the flagship Minneapolis campus, said other state systems should "pay careful attention to what they're doing" on pricing in Minnesota.
"We're well out of the recession, and most state coffers are very healthy," he said. That brings higher appropriations for universities in competing states -- which lets them spend more per student to tempt them to attend college in-state. Combined with a period of "flat demand" for college freshmen, that produces downward pressure on prices.
Hall, who has been consulting in higher education for 35 years, said he has never seen such competition to push tuition downward.
"What we have here is a problem of too many seats and too few bodies to put in them -- and thus the price competition is intense," he said.
Hall added, "You'd better be careful during a demographic crisis."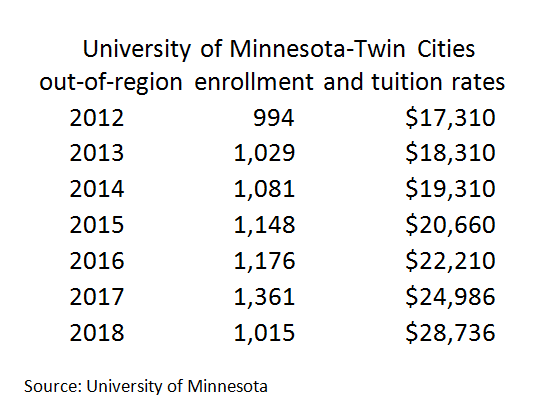 Last spring, U.S. high schools produced nearly 3.5 million graduates. While that number is expected to rise slightly over the next decade, by 2030 or so it will likely drop to under 3.3 million, or more than 191,000 fewer first-time college candidates, according to data [7] from the Western Interstate Commission for Higher Education. In the Midwest alone, the annual number of high school graduates is expected to drop by more than 69,000, or 9.3 percent. In the Northeast, WICHE predicts a drop of more than 44,000 students, or 7.2 percent fewer than in 2018.
Add in a downturn in the number of international students -- visa data show that the number of international students at American universities declined last year [8], after years of substantial growth -- and you've got even greater competition.
"We're shifting back in a direction where there's a lot of legislative emphasis … on enrolling students from our own state," Hall said.
Recent research [9] shows that many state systems have relied on the higher tuition and fees generated by out-of-state students to help balance budgets in times of tight state appropriations. Researcher Ozan Jaquette [10], an assistant professor at the University of California, Los Angeles's Graduate School of Education and Information Studies, last year noted that the typical "once glorious" flagship university in most states "is now the repository of a majority out-of-state students, many of whom are dramatically less academically oriented" than deserving, but in many cases lower-income, in-state students, but who can pay full out-of-state tuition.
A March 2018 analysis of enrollment data by The Washington Post [11] found that at 11 state flagship universities, more than half of incoming freshmen hailed from out of state in 2016, the latest year for which data were available. In that group, figures for in-state students ranged from 49 percent at the University of Arkansas to as little as 21 percent at the University of Vermont.
Jaquette said that as state university systems have become more tuition-reliant, "the out-of-state solution is a solution every flagship is trying to play. If everyone's in this market, you're ultimately competing [for] the same students private liberal arts colleges are competing for -- students whose families are willing to pay those super-high tuitions."
But he said there's a "relatively fixed number" of wealthy families in this category. "They're competing for a pie of a certain size, and that pie isn't getting any larger."
Could these dynamics be changing tuition and enrollment patterns? In neighboring Wisconsin, the number of new freshmen from outside the state grew modestly -- about six percentage points -- from 2013 [12] to 2018 [13].
The Colorado-based State Higher Education Executive Officers last year noted a "moderate" increase in state support for higher education, along with a slight increase in tuition revenue. In constant dollars, from 2016 to 2017, educational appropriations per full-time-equivalent student rose in 27 states. But SHEEO also found [14] that in 2017, for the first time, more than half of states relied more heavily on tuition than on educational appropriations. Over all, net tuition revenue accounted for 46.4 percent of all educational revenues.
David Tandberg [15], SHEEO's vice president of policy research and strategic initiatives, said relying on out-of-state students for revenue is "a major problem" for state systems. These students may provide "far more direct dollars into your budget," he said, but they also draw universities away from their essential mission. "These institutions are chartered as public institutions, meant to serve the state interest," he said.
Larry Isaak [16], president of the Midwestern Higher Education Compact, said states are beginning to see the bigger competitive picture for students. "There is a much different dynamic," he said. "You're not only competing with neighboring states -- you're competing with states across the country. You're competing with other countries." He said states are also beginning to realize the value of attracting more local talent, in a few cases relying on regional tuition reciprocity agreements similar to Minnesota's.
He noted that in the Midwest Student Exchange Program, 10 states have long agreed not to charge [17] more than 150 percent of in-state tuition to out-of-state students in a set of degree-granting programs that the institutions choose at their discretion.
While such students may not serve as the kind of revenue generators they've been in the past, he said, the real revenue generator "is in the payoff of having more educated workers graduating from colleges and universities with a much bigger likelihood of staying in the state."