You have /5 articles left.
Sign up for a free account or log in.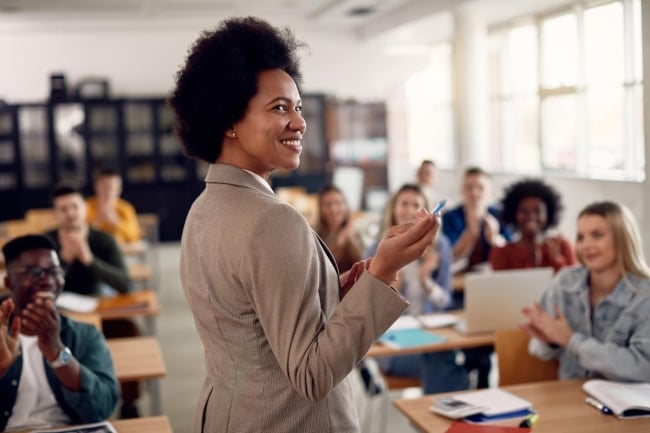 Drazen Zigic/istock/getty images plus
It is no secret that many midcareer faculty members experience malaise. After successfully navigating the gauntlet of requirements for tenure, they face new demands on their time, including additional service and administrative assignments, as well as new uncertainties about how to reach the next rung on the academic career ladder.
The challenges of remaining energized in midcareer and on track to timely promotion to full professor play out differently for different faculty members. Even before the COVID-19 pandemic, faculty of color and women faculty were known to shoulder more of the invisible labor associated with the profession. And inequities in responsibilities at work and at home have only increased with the pandemic.
While many faculty members are experiencing burnout, minoritized faculty have had to deal with their own distinct stressors both before and during the pandemic and even now as it appears to be waning. Too often, they have continued to be the only faculty of color in their departments. In fall 2018, only 6 percent of associate professors at the nation's degree-granting institutions were Black, 5 percent were Hispanic, and fewer than 1 percent were American Indian. Those numbers are even smaller for full professors. In fall 2018, only 4 percent of full professors at degree-granting institutions nationwide were Black, 3 percent were Hispanic, and fewer than 1 percent were American Indian.
It is time for those of us in higher education to recognize that such low numbers reflect the failure of our institutionalized processes and practices. To enable midcareer faculty of color to thrive, we must interrogate how prevailing institutional and departmental policies and practices are -- and are not -- recognizing the contributions of those faculty members and provide the resources and support that they need to succeed. It is important to recognize that academic norms and expectations for "excellence" were developed -- and are too often maintained -- by white, largely male faculty, as Andrea Simpson suggested in a recent article in Inside Higher Ed. It is time to critically assess how those norms and often narrow definitions of excellence serve to advantage and privilege the approaches and views of the majority faculty -- while minimizing and undervaluing the ways that other approaches and perspectives also contribute to academic excellence.
To enable midcareer faculty of color to thrive, we also need to consider other aspects of the work environment. Institutional leaders might ask: What are the professional goals of midcareer faculty of color, and what resources are we providing to help them achieve those goals? What are the institutional resources that are available for midcareer faculty, and are they allocated in ways that recognize the diverse needs, priorities and approaches of a diverse faculty? What external resources -- fellowships, grants, awards and so forth -- are available to advance the careers of midcareer faculty of color, and what are we doing to help midcareer faculty of color receive them?
Mentoring is one approach for providing midcareer faculty with individualized support. Yet when institutions offer formal mentoring programs, they tend to focus on junior faculty. Formalized mentoring programs can help ensure that all faculty -- not just junior faculty or faculty with pre-existing connections to well-placed senior colleagues -- obtain needed information, feedback and support. Especially because mentors for midcareer faculty of color may often be of a different gender, race or ethnicity, institutions should consider training mentors in culturally aware mentoring practices so that they are cognizant of their own background and mitigate any bias and prejudices that they may bring to the experience. Effective mentors for faculty of color serve as allies, demystify the academy for the mentee, provide psychological support, respect the mentee's career decisions and more.
Coaches and Sponsors
While mentors often focus on addressing needs that mentees identify, they can be even more effective if, by serving as coaches and sponsors, they help build a mentee's skills and assist them in gaining recognition for their work and securing new professional opportunities. Mentoring can make visible requirements and expectations for performance reviews and promotions, inform midcareer faculty members' decisions about which service and leadership requests to accept, and provide a tangible signal of institutional care and support. Coaches go further: they provide substantive feedback and constructive guidance on manuscripts and grant proposals and encourage participation in programs that build leadership and other skills. Sponsors do, as well: for instance, they nominate mentees for prestigious awards and speaking opportunities. Such advocates speak up on behalf of the mentee, clarify misperceptions and put information into context for the benefit of the mentee.
In fact, all senior faculty, including senior faculty of color, should stand up and advocate for their midcareer colleagues of color through their engagement in review processes. Senior faculty influence the outcomes of those processes through their service on promotion and tenure committees and as external reviewers. In such roles, they can speak to the value and contributions of diverse perspectives and point out how gender and racial basis can influence teaching evaluations. And they can advocate that all senior faculty who vote on tenure and promotion cases participate in racial bias training specifically related to promotion and review processes.
An excellent and diverse faculty is at the foundation of an excellent college or university. Diverse faculty members bring diverse perspectives, and those diverse perspectives enhance our teaching and advising, research and scholarship, clinical practice, and engagement with the community and our world. To fully realize the benefits of an excellent and diverse faculty, colleges and universities need to do more to enable midcareer faculty of color to thrive and reach the highest ranks.