Title
A Look At A(nother) LMS Startup: iVersity
Blackboard unveiled a new UI today, something that certainly seems a response to not just user complaints but to the flood of new learning management systems entering the market.  But is a UI change sufficient? A look at the Berlin-based iVersity shows a very different approach to thinking about what an online learning platform can be.
The LMS giant Blackboard unveiled a new user interface today -- one that the company describes as "the platform's biggest shift in look and feel in years." It's a facelift that, as Inside Higher Ed observes, sure looks like a response to the flood of new competitors in the LMS space, most of whom are quick to "cast Blackboard as aesthetically retrograde and more concerned with the needs of high-level administrators than those of individual instructors." But the difference between Blackboard and some of the new entrants can't just be described by UI or UX. The Berlin-based startup iVersity is a great example of that.
iVersity describes itself as a "collaboration network for academia," not as a learning management system. Much like another new startup Coursekit, the emphasis is on making educational resources "social."
A free, cloud-based tool that's currently available in English, German, Spanish and Portuguese, iVersity lets professors create research groups, conferences, and courses. In other words, this isn't simply about class administration. While there is a calendaring system, the emphasis is on connecting participants to digital materials and to each other.
It is possible to make the iVersity groups private and closed, but the push is to make them open -- open to the larger academic community beyond the campus walls. As students' work and their profiles can also be made public, giving students a way to showcase their projects in a digital portfolio or online resume of sorts.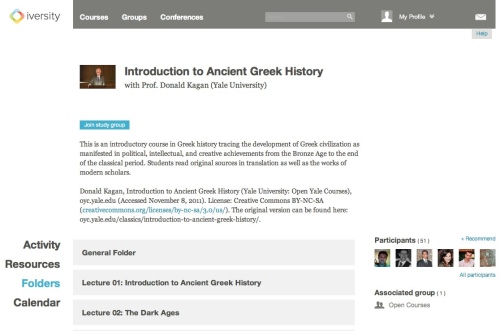 Both the organizer and the participants of an iVersity group can upload resources (PDFs, videos, and so on) to a course, something that the startup says "empower[s] students and encourage[s] peer-to-peer learning." Those text resources can be read using the site's "social reader," an e-reader that allows users to annotate PDFs together. (There's also an option coming soon to order "print-on-demand" texts.)
Spinning out of a university itself and built by students, iVersity had its official launch only last year, after a beta-test with some 11,000 students and faculty. As such, it's definitely got a long road ahead of it as it enters the very crowded LMS market.
But iVersity has a very different approach to delivering an online learning platform than do some of the longstanding players in the market -- something that even a refreshed and updated UI change on their parts isn't going to address.
Opinions on Inside Higher Ed
Inside Higher Ed's Blog U
What Others Are Reading
Past:
Day
Week
Month
Year