University of Richmond Professor's Blog Picked as Advice Column by Inside Higher Ed
University of Richmond Professor's Blog Picked as Advice Column by Inside Higher Ed
For Immediate Release: January 2016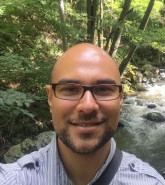 The 1.3 million monthly readers of Inside Higher Ed have a new career advice column – created by Eric Anthony Grollman (right), an assistant professor of sociology at the University of Richmond.
The advice column describes its mission this way: "We provide news, information, personal stories, and resources for scholars who are, at best, 'conditionally accepted' in academe. Conditionally Accepted is an anti-racist, pro-feminist, pro-queer, anti-transphobic, anti-fatphobic, anti-ableist, anti-ageist, anti-classist, and anti-xenophobic online community."
Grollman created Conditionally Accepted in 2013 as a free-standing blog to which others contribute. He said, "I created the blog just as I finished graduate school – frankly, a rather traumatic experience, especially as a Black queer activist. I was tired of feeling as though my identities, my politics, my values, and even my desire to study my own communities – Black and LGBTQ – were somehow at odds with mainstream academic norms. I decided to start writing the stories and sharing the advice that I wish had been available to me as a disenchanted grad student. The blog grew from there."
Inside Higher Ed approached Grollman late last year about joining the website to reach a larger audience than would be possible with a free-standing blog. The first post of the Conditionally Accepted column went live in early January 2016.
"I think the community that Eric has created with Conditionally Accepted is incredibly important," said Scott Jaschik, editor of Inside Higher Ed. "At a time that higher education is trying – with mixed success – to diversify, it is essential that all voices be heard.  I hope the column not only provides support and help for those who feel 'conditionally accepted,' but helps others understand those who feel that way. Eric and his fellow columnists don't pull their punches, so I'm sure our readers won't only be informed but will be challenged."
About the move to Inside Higher Ed, Grollman said, "I am incredibly honored and thrilled to have this little project go 'prime time' on a national platform for higher education.  I have spent the last two-and-a-half years filled with fear that the blog would cost me my tenure-track job. It turns out, my colleagues are incredibly proud of my work on Conditionally Accepted, and even see it as a valuable contribution to making academe a more equitable place."
Kathleen Skerrett, dean of the School of Arts & Sciences at the University of Richmond, said, "Eric Grollman's reflections [on the blog] are critical, vulnerable, and brave. He shows that academic freedom means, at its best, commitment to truth and transformation."
Conditionally Accepted's column will appear every other week on Inside Higher Ed. New columns, archives and author biographies may be found here.
Contacts: Scott Jaschik, Inside Higher Ed, [email protected]; Eric Grollman, Conditionally Accepted, [email protected]