IHE NOW 2020: Transforming Teaching and Learning
IHE NOW 2020: Transforming Teaching and Learning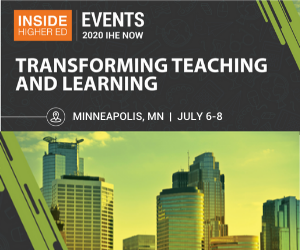 July 6-8, 2020 | Minneapolis, MN
Higher education is easily – and unfairly – caricatured as having changed little for 200 years. Experimentation is abundant in college and university classrooms, physical and otherwise. But as pressure builds to ensure that more people develop the education and skills that employers (and society) need, colleges and their professors must continue to adapt the techniques, tools and approaches they use to educate today's students.
In this three-day, highly interactive event, college and university administrators and others will explore a wide range of topics: what we know about how, and how much, students learn; when (and when not) to use technology; and what the faculty of the future should look like.
Advance registration for Insiders is now open. General registration opens November 13, 2019.