You have /5 articles left.
Sign up for a free account or log in.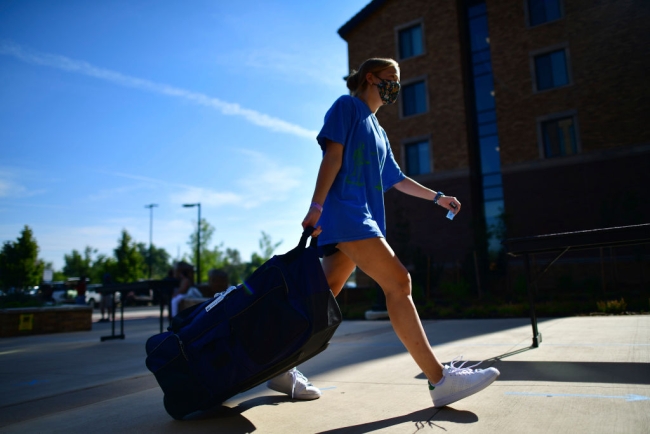 The United States is currently in its worst period for coronavirus infections to date. On Tuesday, the nation broke a new record for deaths due to the virus, at an average of 2,249 per day in a seven-day period. According to The New York Times, over 321,000 infections have been traced to colleges.
Still, many colleges are planning to open their gates in January, welcoming students into residence halls and classrooms. Of the institutions that played it safe this semester and held classes fully online and did not reopen residence halls, many are now planning to expand their academic and living offerings next semester to give students something closer to the college experience they expect.
For example, in the Atlanta area, a trio of historically Black colleges and universities has announced reopenings after a quiet fall of virtual learning. Clark Atlanta University will be bringing freshmen, transfers and seniors onto campus. Morehouse College will be bringing up to 1,200 students to live in residence halls -- a large fraction of the 1,500 student capacity -- with select in-person classes. Spelman College announced that it would allow 350 students to live in single-occupancy rooms, with off-campus students able to enter for in-person classes. Campus population will be kept at 30 percent capacity.
"Our plans are based on Spelman's ability to monitor several health metrics, our faith that our community will adhere to health and safety protocols, and the knowledge that we may need to pivot back to remote learning if the data continues to worsen," Mary Schmidt Campbell, Spelman's president, wrote in the announcement.
In Washington, D.C., three private institutions announced that they, too, would be expanding their capacity. American University will be doubling its number of in-person classes. George Washington University will allow 1,600 students to live on campus, up from 500 in the fall. Georgetown University will be keeping all classes virtual but will allow 1,000 students to live on campus, up from 500 in the fall.
"Most institutions are staying the course from the fall to the spring. There are very few institutions that are changing their plans," said Chris Marsicano, executive director of the College Crisis Initiative at Davidson College. "Most of the small minority of institutions that are changing plans are institutions that were online and are transitioning into some sort of in-person instruction."
Things that make for a successful residential semester, like testing, contact tracing and controlling student movement, Marsicano said, have gotten cheaper and easier.
"Institutions wrote the playbook in the fall, and so now institutions that were online can pick up that playbook and run with it."
The experiment of colleges and universities bringing students back to live on campus hasn't always been successful. High case numbers plagued large public institutions this year, especially early in the semester, garnering significant public concern. Some college announcements have confronted that history head-on, explaining that they plan to follow the example of the institutions that did keep disease spread under control. Others have avoided discussing it and the worsening virus situation in the country at large entirely.
"I want to acknowledge up front that, as I write, many areas of the country -- including some college and university campuses -- are experiencing surges in COVID-19 cases. This is a serious situation, and one we are monitoring carefully," Kathleen McCartney, president of Smith College, wrote in a message to campus. "At the same time, well-managed campus communities provide a number of insights that suggest we can continue to keep campus positivity rates very low with students in residence."
Smith is planning to house up to 1,830 students on campus and offer some hybrid classes after a semester of fully virtual learning and no on-campus living. The residence halls can usually hold 2,400 students. All students on campus will be tested for COVID-19 twice per week, following the example of institutions like Colby College and the University of Illinois at Urbana-Champaign.
Other women's colleges that did not open in the spring are doing the same. Officials at Mount Holyoke College have said they can accommodate up to 60 percent of the student body in on-campus housing, with twice-weekly testing. Barnard College will be opening up some residence halls and offering some in-person classes for those who want them.
Of course, some universities that kept instruction remote in the fall are choosing to stick with that plan. Howard University, Hampton University and Rutgers University at New Brunswick are among them.
Some institutions are staying remote as a result of local guidelines, but they have emphasized that they are pushing for the approval to reopen or will do so if a decision is made. Pomona College, Harvey Mudd College and University of Southern California -- all in Los Angeles County -- are among them.
"Spring semester will begin online. We are ready for the phased return of students once approved," a message from Pomona reads. "We are pressing on all fronts for county approval."
In the fall, some colleges originally brought students back to campus in August, only to send them home after campus outbreaks, such as the University of North Carolina at Chapel Hill and East Carolina University. Those universities are still planning to again bring students back to campus, hoping to do better this time.
"We will establish a very large capacity for on-campus isolation and quarantine. We are updating our COVID-19 testing plans," Ron Mitchelson, chancellor of East Carolina, said in a message to campus. The campus had closed in the fall after running low on quarantine space.
"Unfortunately a lot of institutions have had to respond to political wishful thinking rather than the facts on the ground," Marsicano said.
Pushback from faculty has been particularly intense at Chapel Hill, where the administration is planning to hold fewer in-person classes than they did early in the fall before outbreaks led to campus closure.
"New daily cases are at least three times higher nationally today than they were when UNC classes began on Aug. 10, and the same is true in North Carolina," 68 faculty members wrote in an open letter to the administration. "Given current conditions and UNC's track record, the plans for spring are doomed to repeat too many of the failures of the fall. The only ethical decision is to cancel face-to-face instruction (with the exception of classes that demand it, such as clinical experience) and to keep on-campus residency reserved for those who have special circumstances."
Faculty members and students at the University of Florida have been similarly dismayed by the administration's plans to hold the same level of face-to-face classes as it did last year, before the pandemic.
"We believe that it's not right to force faculty, staff and instructors who have pre-existing health conditions, to force them back in classrooms that are going to be inherently unsafe," Paul Ortiz, chair of the university's faculty union chapter, said at a Board of Trustees meeting, as reported by The Gainesville Sun.
Nearly 200 faculty members at Florida signed an open letter criticizing the university's plan as bad for student learning. Students who "attend" in-person classes online, they argued, will effectively be lurkers in their own courses, watching as the professor engages with the in-person students.
"This improvised plan features the worst, rather than the best, of UF teaching practices by simultaneously doubling the class and splitting the instructors' focus," the letter said. "It is rife with trouble-shooting challenges, both technological and logistical."
At least one public flagship is going against the grain and planning to scale back in-person offerings. The University of Michigan invited students back this fall, but after outbreaks, strikes from graduate student instructors and residence assistants over COVID-19 precautions, and a faculty vote of no confidence in the administration, officials have released a more cautious plan. Students have been asked not to come back to campus in January. Rooms will be single occupancy, drastically reducing housing supply. Ninety percent of classes will be online.
The country's most recent surge has left a few states, such as South Dakota and Rhode Island, particularly hard hit. While that hasn't resulted in widespread adoption of remote learning plans at institutions in those states, Marsicano said there is still time.
"A lot of these institutions started announcing these most recent springtime decisions before this most recent surge in coronavirus cases across the country," he said. "It's unlikely that we are really going to know what institutions are going to do in the spring until the middle of January."