You have /5 articles left.
Sign up for a free account or log in.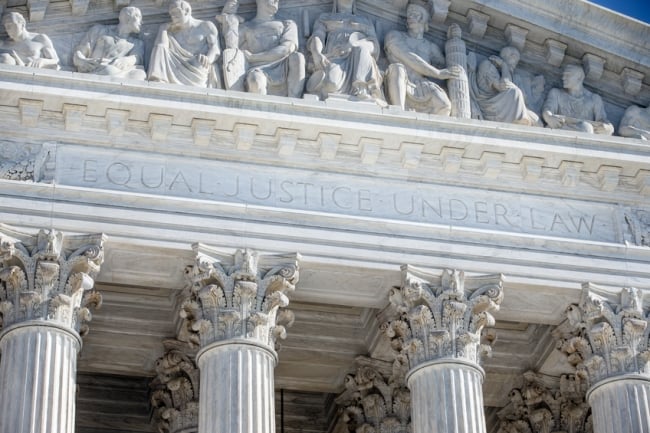 On Thursday, when the U.S. Supreme Court issued rulings in three cases, colleges were watching for two cases, one on President Biden's loan-forgiveness plan and one on affirmative action. Neither decision has landed yet.
The case that is drawing the most attention from college leaders is the one on affirmative action, and they fear that the Supreme Court could abolish the practice. In terms of admissions, the decision would likely affect the top 100 or so colleges, which are very competitive in admissions and hard to get into. But if the court rules broadly, it may affect financial aid programs offered by thousands of colleges, and special recruitment programs (such as programs for Latina women in science) that many campuses offer.
So what are colleges to do?
Many colleges say (privately) that they are planning for affirmative action to lose at the Supreme Court, but they prefer not to talk about it now. But some acknowledge their plans.
The Common Application, which handles applications for more than 1,000 colleges, announced last week that it would give colleges that are members the right to receive all applications without noting the race or ethnicity of students. The answers students provide to the Common App on their races would be held by the organization.
"The forthcoming Supreme Court decision on the use of race in college admission has the potential to impact our work in college admissions in significant ways," said Jenny Rickard, president and CEO of the Common App. "And Common App is committed to doing our part to help close equity gaps for underrepresented populations in higher education."
Rickard added, "Right now, we are focused on supporting our member colleges and universities with any changes that may need to happen as a result of the Supreme Court decision. While we do not know what the Supreme Court will decide, we have no plans to remove the optional race and ethnicity questions that are currently on the application."
Rickard's point about the fact that the Common App will not stop asking about race and ethnicity is important. The Common App produces work on the overall trends in higher education and will be able to continue such research.
The Common App does not receive federal funds and so is not covered by most of the federal laws about discrimination in education programs.
Edward Blum, founder and president of Students for Fair Admissions, which is suing Harvard University and the University of North Carolina at Chapel Hill, the two cases being considered by the Supreme Court, acknowledged that the plan would work, in theory.
But, he said, "It is our opinion that if SFFA prevails in our lawsuits, colleges will be forbidden from receiving racial classification data from the Common App."
This could change after the admissions process is complete, but not before then.
Essays
Some colleges are talking about adding an essay question to their applications about applicants' identities. This would be a format that would allow applicants to discuss instances of discrimination they had faced, and how they responded.
Brown University is among the universities that are considering adding an essay.
Brian E. Clark, a university spokesman, said via email that this is "one of a number of strategies we've explored in a preliminary way and will evaluate further once we understand the court's decision."
Clark added, "Like other schools, we're of course scenario-planning as we await the decision. After analyzing that, we'll know where to focus our attention and determine any necessary revisions and changes to our admissions processes and practices to comply with the law while sustaining our commitment to diversity on campus."
Creating Commissions
Some colleges have created commissions to study what to do.
The American Association of Collegiate Registrars and Admissions Officers recommended in February that colleges do so.
AACRAO urged colleges to create a commission with a broad agenda. "Because this decision could possibly implicate more than your admissions program, the team will need to be well-grounded in your institutional mission and vision, and should be cross-functional across all of your intake processes. In its review, the team will need to identify the areas in which your institution may be at risk should the court significantly narrow or eliminate altogether any consideration of race in the admissions process, and any other programs that could be implicated due to their adjacency to admission," AACRAO said. "Their work should include vision, direction, response planning, impact and investment, compliance, communications, and stakeholder participation."
The panels should then conduct an audit, AACRAO said, and look at more than affirmative action. "Identify areas that might need to change should the court further narrow or eliminate affirmative action," the recommendation said. "This audit will establish a baseline inventory of all policies/procedures/practices associated with diversity, equity and inclusion. You should include any legacy or donor considerations you may have in place."
Some colleges have followed AACRAO's advice.
Syracuse University, for example, created a working group. Kent Syverud, the chancellor, announced in March that "the team is assessing potential outcomes of the court's decisions. Second, they are devising strategies to maintain our diverse and inclusive university based on each of these potential outcomes. And third, they will be communicating this work in the coming weeks to raise everybody's awareness and to engage our community on this effort."
He said the group and the university "are being proactive in our approach so that we can be nimble and respond based on the detail in the court's decisions … We are committed to maintaining a diverse student body in the future. The Supreme Court's decisions may make this more difficult, and may require us to redouble our efforts in different ways."
Some universities are planning for the Supreme Court decision without making any announcement.
One flagship university has a committee working informally, discussing the same issues that other commissions are discussing, with people from admissions, legal affairs and public affairs. But the group is not keeping any record of their meetings, to avoid Freedom of Information Act or state open-records laws.
When Will the Decision Arrive?
As colleges plan for the decision, the question on everyone's mind is: When will the decision arrive? The Supreme Court has announced that it will issue decisions (on something) on each of the next three Thursdays before the court's current term ends.
However, the court can add dates at any time. Most are guessing the decision will be among the last released this year, and no one knows for sure.