You have /5 articles left.
Sign up for a free account or log in.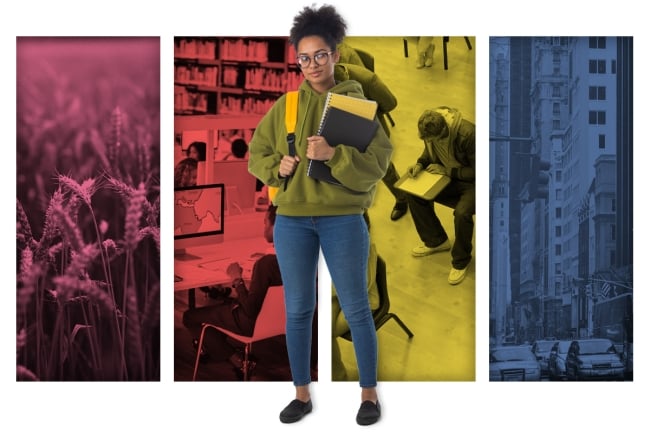 Photo illustration by Justin Morrison/Inside Higher Ed | Getty Images | Rawpixel
Context is key when it comes to holistic and equitable admissions, according to new research from the American Educational Research Association.
The study, published today in the organization's peer-reviewed journal AERA Open, found that assessing applicants' high school grades and standardized test scores while taking into account their levels of school, neighborhood and family resources can identify underserved students who are very likely to succeed in college. It also found that contextualized high school GPAs correlate almost three times more strongly to college success than raw ACT scores do.
Michael Bastedo, a co-author of the research and the associate dean for research at the University of Michigan's Center for the Study of Higher and Postsecondary Education, said that while the results aren't exactly groundbreaking, they represent a "shoring up" of the data-driven argument he's been making for decades: that students with lower grades and test scores from underserved high schools can do just as well as their peers from private and well-funded public high schools.
"Sometimes the concern is, if you don't come from a feeder school, will you be successful?" he said. "This study shows that they needn't worry so much; they can be confident those students will succeed."
The Supreme Court's ruling striking down affirmative action also gives renewed importance to the data, and potentially new energy to the mission behind them, Bastedo said.
"Schools are going to be looking for levers to provide equity in admissions—legal levers," he said. "It's a good chance to lean into this strategy of truly holistic review."
Richard Kahlenberg, a nonresident scholar at Georgetown University's Center on Education and the Workforce, said the research was "enormously important" against the backdrop of the nationwide affirmative action ban.
"The association between race and neighborhood, or race and school conditions, is stronger than the relationship between race and an individual family's socioeconomic status," he said. "So this could be an incredibly effective tool for colleges desiring to have more diverse classes."
The study drew data from the applications and first-year results of 2.3 million students at public institutions in an unnamed Midwestern state from 2010 to 2015.
Putting Context Into Practice
Applying the lessons of contextualized reviews to concrete admissions practices is a complicated task. "It's not easy to operationalize holistic admissions by its very nature," Bastedo said. But there are precedents that Bastedo believes are good templates for a diverse toolbox of holistic admissions tools.
Consider Texas's decades-old policy of guaranteed admission to any public university for the top 10 percent of high school graduates across the state, for instance. Adopted in 1997 after a circuit court ruling in Hopwood v. University of Texas briefly made affirmative action illegal for public colleges in the state, the 10 percent plan could be a simple and easily replicable way for institutions to protect against the potentially regressive effects of the recent Supreme Court ruling, Bastedo said.
"The students who come in through the Texas top 10 percent program do just as well academically as students who are admitted through the holistic process," he said. "That's been a really good data-driven marker for other contextualized admissions strategies."
Some studies have found mixed results for the impact of the 10 percent plan on institutions' racial diversity. Still, the practice is expanding: earlier this month, the University of Tennessee's Board of Governors voted to adopt a top 10 percent guarantee plan for the system's flagship in Knoxville.
Practical applications of contextualized review efforts have stirred controversy in the past.
In 2019 the College Board announced it would incorporate SAT adversity scores into data sets for admissions officers to consider, measuring the extent of a high school student's hardship, or privilege, on a scale of one to 100. Backlash erupted across the political spectrum: conservatives and traditionalists believed it undercut the supposed meritocracy of pure score-to-score comparisons, while progressives objected to reducing applicants' life experience to one numeric score.
The College Board abandoned the proposal before it was ever put into practice, replacing it with Landscape, a more holistic data analysis tool that Kahlenberg calls "an antiseptic version of the adversity score."
"It mostly allows admissions officers to put together their own adversity scores," said Kahlenberg, who helped work on Landscape in 2019. "They didn't abandon the idea at all; they just repackaged it."
James Murphy, deputy director of higher ed policy for the progressive think tank Education Reform Now, said the coverage of the adversity score fiasco undermined a potentially beneficial data point for allowing admissions officers to be more equity-minded. But he added that Landscape has been a helpful and popular alternative, and he hopes that more tools to enable contextualized review practices are introduced in the aftermath of the Supreme Court's affirmative action ban.
For Bastedo, contextualizing applications is a matter of both justice and common sense.
"It's important to recognize that we have a highly stratified high school system in this country, which gives students vastly different opportunities," he said. "It's only fair that admissions offices take that into account."
Murphy said that while the AERA study and the practices it advocates aren't revolutionary, they're a good start for universities looking to try something new in a changed admissions landscape.
"Is it a game changer? No, it's another tool that will help chip away at all of the unfairness and inequity that's baked into the system," he said. "But now's the time to try anything that works."