You have /5 articles left.
Sign up for a free account or log in.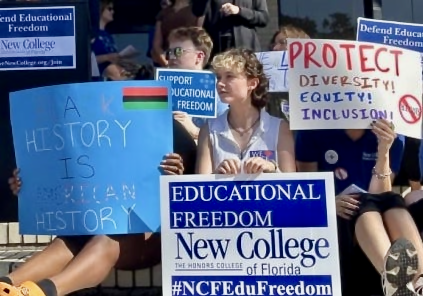 New College of Florida Students for Educational Freedom
It is a difficult time to be a DEI professional in higher education—especially in states where the field has come under intense scrutiny from lawmakers seeking to legislate it out of existence at public institutions. Or in states like Florida, Ohio and Texas, where they already have.
Some diversity officers, including Cecil Howard, the former chief diversity officer at the University of South Florida, have left their red-state institutions and vowed not to pursue jobs in states with similar challenges.
"I tell people, I live in Florida but I won't work here anymore," Howard told Inside Higher Ed in January. "People who are very talented won't come to Florida—or a number of other states—to do this work anymore. I said no to a job in Tennessee recently for the same reasons."
But that's not the whole story, according to many diversity officers who spoke both on and off the record. Some DEI practitioners, faculty invested in diversity and equity goals, and student-facing professionals in red states are fighting back against threats to their work, despite the resistance they face from board members, lawmakers and the voting public.
"There's this narrative in the South like we're doing nothing, and that's just not true," said Vanessa Sansone, an assistant professor of higher education at the University of Texas at San Antonio. "Plenty of folks are staying and working, and that is a form of resistance."
What that resistance looks like—and how difficult it will be to maintain if the march of anti-DEI legislation continues—remains murky. What's more certain, Sansone said, is the feeling of urgency and even dissidence that has come to define DEI work in the face of the growing movement to quash it.
"The [anti-DEI] state policies all happen so fast. And that's kind of intentional, I think; it builds momentum," she said. "There is momentum in regard to solidarity, too, across states and across racialized groups. And my hope is that momentum just keeps building."
Choosing to 'Stay and Fight'
When Texas proposed a bill to defund and eliminate DEI positions at public colleges and universities, supporters of the legislation cheered what they saw as the end of a wasteful expenditure of public money. At best, those funds perpetuated a phantom issue no longer relevant to modern America, they said; at worst, they enabled discrimination against white and conservative campus constituents.
"I don't believe in solving a problem that doesn't exist," Ben Carson, the former Republican presidential candidate and secretary of housing and urban development during the Trump administration, told Texas lawmakers in April during testimony supporting the DEI-elimination bill. "[DEI offices] are fighting yesterday's war. We have much more important things to be fighting against right now."
Paulette Granberry Russell, president of the National Association of Diversity Officers in Higher Education (NADOHE), has a different view. She said in states like Texas, the elimination of DEI offices makes it easier—and in some ways more sensible—for DEI professionals to leave their institutions. The fact that many do not and instead choose to continue supporting inclusive and diverse environments, she said, is a sign of the ongoing necessity of DEI work and the dedication of those who engage in it.
"I don't think it's any different than the earlier years of the civil rights movement. Some could leave; others chose to stay and fight," she said. "To the extent that individuals are choosing to stay in these environments that have grown increasingly hostile, it is with a deep commitment to achieving equity and justice in those spaces."
Nathaniel Dunlap, a member of the Georgia Association of Diversity Officers in Higher Education Executive Board, said he'd seen "no exodus" of diversity officers from the Peach State despite legislative efforts to defund public DEI offices.
The explosion of higher ed DEI positions was itself the result of political pressures after the 2020 murder of George Floyd and the protest movement it sparked, he noted, pointing out that membership in NADOHE grew by 60 percent between 2020 and 2022. While he "did not expect the pendulum to swing so far, so fast" regarding the backlash to DEI, he and his colleagues weren't entirely unprepared for it, either.
"None of us are ready to fly for the hills," Dunlap said. "We've been bracing ourselves and paying attention to the ebbs and flows."
Andrea Abrams, vice president for diversity, equity and inclusion at Centre College in Kentucky, said that even though her state has yet to pass the kind of anti-DEI legislation enacted in Florida, Texas and Ohio, the tenor of the political conversation about it has hampered her ability to do the actual work of attracting students and faculty members of color to her institution, and of making sure they feel supported when they arrive.
"I worry about the fact that some people don't want to come here. The specter of what could come next does have a real chilling effect," she said. "At the same time, we aren't as far as Texas or Florida. There's still time to fight this, and so now is the time to hold the line and do what we can."
That fight may be intensifying, Sansone added, but it's not entirely new.
"DEI offices at many institutions, especially in the South, have kind of always been more window dressing than anything," she said. "Many have always been fighting to do their work despite resistance from leaders and institutions. So is it codified in policy now in Texas? Sure. But the reality is, it's a struggle that's been going on for a while anyway."
Evolving Strategies
If the fight to uphold DEI in higher ed is a battle between campus workers' David and the policy makers' Goliath, the former is still searching for a golden slingshot.
Sansone said that in Texas, where the state Legislature passed a bill banning funding for DEI offices at public universities, resistance means anything from engaging in bold public activism to reshuffling staff or renaming certain offices to be "race-neutral"—all while continuing to support student and faculty diversity and inclusion efforts.
Either way, conversations about how to push back are being conducted in hushed tones—"not in whispers, but not entirely out in the open, either," she said.
"We're not necessarily using our state university emails to communicate about this, for example. You've got to be a little smarter than that."
Adrianna Kezar, director of the Pullias Center for Higher Education at the University of Southern California, suggested strategies that institutions can adopt to make DEI harder to target. One such approach calls for Shared Equity Leadership (SEL), which Kezar said essentially means creating fewer—if any—formal DEI-focused positions while dispensing more training and responsibilities across existing academic departments, student-facing offices and administrative roles.
The Pullias Center has researched SEL in comparison to more centralized solutions, such as investing in independent DEI offices and in new high-level administrative positions, which Kezar said are often "largely symbolic" or "treated like side projects rather than core institutional goals." They also tend to be expensive—a problem in states where lawmakers are reluctant to allocate funds to DEI efforts and a barrier in those that now outlaw that kind of spending.
"When DEI work is dispersed across the institution, without any central office or specific budget, that makes it much harder for Republican lawmakers to target," she said. "The silver lining is that our research found it also makes this work more effective and impactful for students."
Such protection is becoming more important in states where anti-DEI legislation seems likely to pass, including North Carolina and Tennessee. For workers in a field that has come under scrutiny not only by legislators but also by various university stakeholders—alumni worried about so-called reverse discrimination, students who don't feel adequately supported and university leaders who feel undermined—the stakes have never been higher, Abrams said.
"Before, the consequences for doing this work might be that an alumnus would be unhappy, and you'd have to deal with that," she said. "Now, you could lose your job; you could get sued or get your institutions sued. That's a different level of threat."
At the same time, Abrams doesn't believe those risks justify bailing for smoother waters by heading to a state where DEI is viewed more favorably.
"It is sad, and I understand the kind of despair and frustration that we're fighting battles that we thought were finished years ago," she said. "But even if you don't want to head into battle, the key is to come anyway and just do the work … Retreat is retreat. That's admitting defeat."
Dunlap said the fight for DEI will be carried out less by phalanxes of protesters on statehouse steps than by professors, administrators and staff members in classrooms and counseling offices, where they remain stubbornly committed to helping students and faculty with marginalized identities navigate a world that was designed for white men.
"We're not in a place to be fighting against our political institutions; we have to focus our time on the students and faculty," he said. "Ultimately, to quote from Scripture, this is not a war of flesh and blood. It is a war against spiritual wickedness. And the most important thing about fighting that kind of war is just being kind and doing the right thing."