You have /5 articles left.
Sign up for a free account or log in.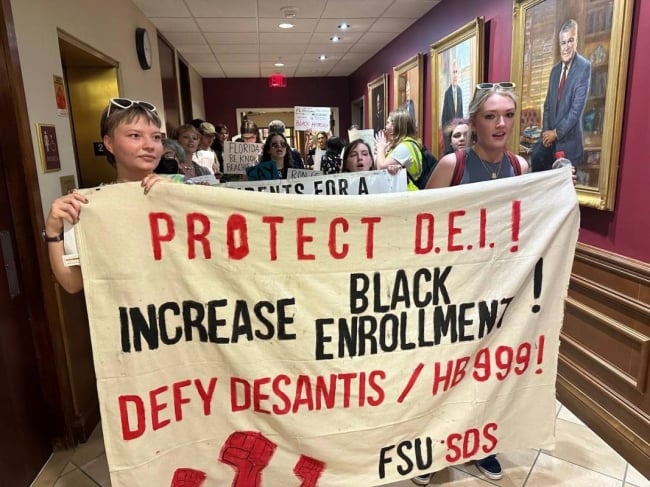 As Florida's Republican governor, Ron DeSantis, seeks to enact sweeping reforms to dramatically reshape higher education in the Sunshine State, students and faculty alike have protested legislation that would ban teaching certain topics, limit institutional authority and undermine tenure protections.
But one group has remained conspicuously silent: Florida's college presidents.
Of the 40 presidents at Florida's public colleges and universities, none have publicly challenged DeSantis as he has gone after diversity, equity and inclusion efforts; sought data on health care for transgender students; and pushed HB 999—legislation to remake Florida higher education.
Given their shared silence, Inside Higher Ed asked all 40 presidents that lead the institutions that comprise the State University System of Florida and Florida College System for comment. None of the presidents agreed to discuss attacks on higher education from the DeSantis administration, even when offered anonymity, and multiple institutions did not respond to a request for comment.
Florida's college presidents remain silent as constituents demand they speak up with HB 999 advancing through the state Legislature. Observers suggest presidents are in a no-win scenario, where silence equals compliance but speaking out carries personal and institutional risks.
The DeSantis administration did not respond to a request for comment.
Demands to Take a Stance
The silence of presidents at Florida's public institutions has not gone unnoticed by students, many of whom have protested across the state in recent weeks, demanding that leaders fight back on efforts to undo diversity, equity and inclusion efforts and other issues related to HB 999.
Students at Florida State University tried to force a meeting with President Richard McCullough last week by marching on the administrative building but were given an impromptu listening session with Provost Jim Clark instead. In a video of the encounter, Clark said FSU was "aware of the issues" being raised by students but that the university would not take a public position on HB 999.
Alex Carson, a senior at FSU and vice president of FSU Students for a Democratic Society, which led the protest, came away unimpressed with the response of university leadership.
"We want presidents and other administrators to stand up and say, 'We don't care about this bill—no matter what happens, we are committed to defending our majors, defending the quality of our education and defending DEI.' We think it's well within their rights to do so," Carson said.
But public statements so far have gone in the opposite direction of what many students and employees want. Rather than defending DEI, presidents in the Florida College System released a joint statement in January—prior to the introduction of HB 999—pledging not to "fund or support any institutional practice, policy, or academic requirement that compels belief in critical race theory or related concepts." The statement generated outrage from many students and faculty members.
Presidents of Florida's public institutions are caught in a "no-win scenario," said Michael S. Harris, a higher education professor at Southern Methodist University, director of SMU's Center for Teaching Excellence and chair of the Department of Education Policy and Leadership.
College presidents, Harris notes, have to carefully pick and choose which issues to engage on. Oftentimes it makes sense to not comment on certain issues, but in a case where academic freedom and institutional autonomy are at risk, he believes there is an imperative to speak up.
"There's clearly a political fear that if presidents stand up and support the values of their institution, if they contradict the governor and his powerful friends in the Legislature, that their jobs are threatened, which I think is a valid concern, or their institutions are threatened, which is also a valid concern," Harris said. "But I would argue their silence is not protecting the institution."
While silence "seems politically expedient," Harris said, there may be profound long-term implications for Florida's public institutions if HB 999 passes and becomes state law.
Personal and Institutional Risks
To understand what they stand to lose, Inside Higher Ed requested the contracts for all 40 presidents in Florida's university and college systems. In all, 31 institutions provided copies of their president's contracts, and nine have not fulfilled that request. Several colleges did not provide a response to multiple inquiries but sent their president's contract after this story was first published on March 30. (This paragraph has been updated to reflect the number of contracts sent after the fact.)
Inside Higher Ed shared those contracts with Judith Wilde and James Finkelstein, who have analyzed hundreds of presidential contracts in their shared research at George Mason University. Wilde and Finkelstein noted that most of the contracts are fairly standard for public university presidents, and, according to the contracts analyzed, college presidents have less protection than their university counterparts, with fewer assurances like tenure or postpresidential employment. Many university contracts include tenure for presidents following their executive tenure.
One likely concern that presidents have is the possibility of being fired for cause, which would cause them to lose deferred compensation and other benefits. But whether presidents can be fired with cause for speaking up on political matters may depend on their governing boards.
"These contracts vary in what they define as constituting for cause. Some of them are quite elaborate; some are very general. Typically, for-cause terminations for presidents are for malfeasance, for being convicted of a felony, acts of moral turpitude, acts of insubordination and the like. It is conceivable that the board could say, 'You are violating a state policy' or 'You're violating a statute' in the state, and they could invoke termination for cause," Finkelstein said.
But Finkelstein also raised questions about the corporatization of higher education and suggested that presidents, acting more like CEOs, are reluctant to take a stance on anything.
"They behave more like corporate executives than they do as public intellectuals and public leaders of societal institutions. And I think that probably causes them to be a bit more cautious," Finkelstein said.
Finkelstein and Wilde also suggested that while nothing in these contracts inherently prevents Florida presidents from speaking out, there are some factors that have likely shaped their silence. First, said Wilde, is loyalty, noting that "some presidents owe their presidency to the governor," given that presidents must be appointed by college and state trustees—who are appointed by DeSantis.
Additionally, newer presidents may have known the expectations of the job going in, Wilde said.
A former president at a public institution in Florida, speaking on the condition of anonymity, said that the possibility of being fired for cause is a likely factor in the silence of campus leadership.
"If you look at presidents' contracts in Florida, you lose a lot if you're terminated with cause, and it probably destroys the rest of your career. You lose access to remaining as an employee, you lose tenure and there is the threat to remove all retirement benefits that have been accrued," said the former president, who added that "bullying behavior" from DeSantis also plays a role.
The former president said college leaders in Florida are likely "in conflict about how to best protect and steward their institution, their faculty and their students," given not only personal risks but also the likely political retaliation that would come from state lawmakers if they speak up. Such resistance could be countered with budget cuts or having funds denied for capital projects.
The former president also noted the alignment between local trustees and state boards, with DeSantis appointing many (but not all) members of those governing bodies. But, even with the DeSantis imprint on boards, the former president questioned why trustees aren't speaking up.
"I think an interesting question is why are trustees not standing up? Why are trustees not pushing back? An easy answer is because they're political appointees, but it has to be bugging some of them. It's hard for the presidents, because they're the executives, but trustees ought to be asking questions about their roles in the long-term stewardship of the university and educating the people of Florida, and I don't see anything coming out of the trustees," they said.
While Florida's college presidents may be silent in the public sphere, Harris notes there may be conversations happening in private to push back and to sway board members to speak up. He also notes the risk of one president raising concerns individually, noting it will make that person and their institution a target if they speak up alone without others joining in their objections.
But, ultimately, Harris argues that some issues are too big to ignore—and HB 999 is exactly that.
"I'm not sure there's a tougher job in higher education right now than being a president of a Florida public institution. But, at some point, if you're going to be in the role, I think you have to be prepared to lose your job to stand up for the values that you hold and that your institution holds," Harris said.