Adjuncts
U of Illinois settles with professor unhired for his controversial remarks on Twitter. He'll get cash but not the job he wanted.
Booklets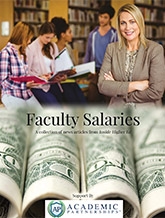 "Faculty Salaries" is Inside Higher Ed's latest print-on-demand compilation of articles.
It contains a report on the annual faculty compensation survey from the American Association of University Professors and explores such topics as gender and racial pay gaps and adjunct unionization.
This compilation is free and you may download a copy here.
And you may sign up here for a free webinar on Thursday, August 20, at 2 p.m. Eastern about the themes of the booklet.
The publication of this booklet was made possible in part by the advertising support of Academic Partnerships.
Topics
Section Topics
Related Jobs
Undergraduate Degrees Bard offers courses of study in four divisions—Arts; Languages and Literature; Science, Mathematics, and Computing; and Social...
John Jay College is both an internationally recognized leader in scholarly research on criminal justice and a premier academic institution whose...
Most
Past:
Day
Week
Month
Year