Adjuncts
Northeastern is latest university where first contract with adjunct union has included substantial salary increases and other key benefits -- such as payments for classes that colleges cancel.
Booklets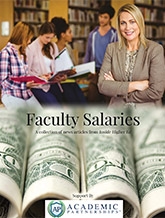 "Faculty Salaries" is Inside Higher Ed's latest print-on-demand compilation of articles.
It contains a report on the annual faculty compensation survey from the American Association of University Professors and explores such topics as gender and racial pay gaps and adjunct unionization.
This compilation is free and you may download a copy here.
And you may sign up here for a free webinar on Thursday, August 20, at 2 p.m. Eastern about the themes of the booklet.
The publication of this booklet was made possible in part by the advertising support of Academic Partnerships.
Topics
Section Topics
Related Jobs
Alfred State College Offers Outstanding Opportunities Alfred State College, a college of technology within the State University of New York (SUNY)...
The German University in Cairo is an independent, non-profit oriented Egyptian private institution, managed by a consortium of Germans and Egyptians...
Most
Past:
Day
Week
Month
Year