Assessment and Accountability
Assessment and Accountability
Most students remain worried about money and the cost of required academic materials, and the impact is worse for minority students, the National Survey of Student Engagement finds.
Surveys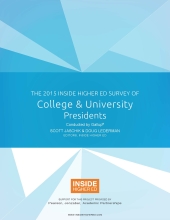 March 13, 2015 -- Inside Higher Ed's 2015 Survey of College and University Presidents explored the views of presidents on the financial sustainability of their institutions, the Obama administration's rating system, sexual assault, race and their role in the tenure process, among other topics.
The survey was conducted in conjunction with researchers from Gallup Education. Inside Higher Ed regularly surveys key higher ed professionals on a range of topics.
On April 14, Inside Higher Ed Editors Doug Lederman and Scott Jaschik analyzed the survey's findings and answered readers' questions about them in a free webinar. View the webinar here.
The
Inside Higher Ed
survey
of
presidents
was made possible in part by advertising from Academic Partnerships, Jenzabar and Pearson.
Booklets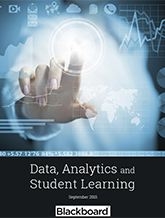 "Data, Analytics and Student Learning" is Inside Higher Ed's latest print-on-demand compilation of articles.
The booklet features articles about trends, debates and strategies of a range of institutions.
This compilation is free and you may download a copy here.
And you may sign up here for a free webinar on Tuesday, Sept. 29 at 2 p.m. Eastern about the themes of the booklet.
The booklet's publication was made possible in part by the advertising support of Blackboard.
Topics
Section Topics
Related Jobs
Stockton University is one of America's most distinctive public universities, consistently ranking among the nation's finest educational institutions...
New York City College of Technology (City Tech) of The City University of New York (CUNY) is the largest public college of technology in New York...
Most
Past:
Day
Week
Month
Year