Assessment and Accountability
Assessment and Accountability
Underemployment rates for college grads have sharply declined since the 2008 recession, and degree holders far outpace high school graduates, especially among African-American and Hispanic adults.
Surveys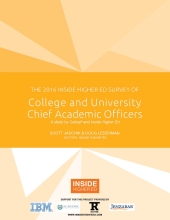 Jan. 22, 2016 -- Inside Higher Ed's 2016 Survey of College and University Chief Academic Officers queries provosts and other academic leaders on a wide range of topics. A copy of the report can be downloaded here.
Inside Higher Ed regularly surveys key higher ed professionals on a range of topics, in collaboration with Gallup.
On Feb. 16 at 2 p.m. Eastern, Inside Higher Ed Editors Scott Jaschik and Doug Lederman will share and analyze the findings and answer readers' questions in a free webinar. To register, please click here.
The Inside Higher Ed survey of provosts was made possible in part by advertising from IBM, Academic Partnerships, Rafter and Jenzabar.
Booklets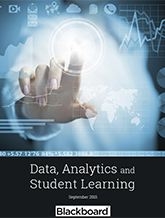 "Data, Analytics and Student Learning" is Inside Higher Ed's latest print-on-demand compilation of articles.
The booklet features articles about trends, debates and strategies of a range of institutions.
This compilation is free and you may download a copy here.
And you may sign up here for a free webinar on Tuesday, Sept. 29 at 2 p.m. Eastern about the themes of the booklet.
The booklet's publication was made possible in part by the advertising support of Blackboard.
Topics
Section Topics
Related Jobs
About UMHB The University of Mary Hardin-Baylor was chartered in 1845 by the Republic of Texas. Location Belton is located in the heart of Central...
We honor our past because it shapes our future. Otterbein's story begins in the mid-1800s, before the abolition of slavery, before the women's right...
Most
Past:
Day
Week
Month
Year