Community Colleges
At Milwaukee Area Technical College, some students, faculty and community members feel the new, pro-business appointment process to the institution's board disenfranchises minorities.
Surveys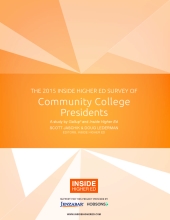 April 17, 2015 -- Inside Higher Ed's 2015 Survey of Community College Presidents explored the views of two-year-college leaders on a range of timely topics. The study was conducted in conjunction with researchers from Gallup.
Inside Higher Ed regularly surveys key higher ed professionals on a range of topics.
On Thursday, May 28, Inside Higher Ed editors analyzed the survey's findings and answered readers' questions in a free webinar. To watch the webinar, please click here.
The Inside Higher Ed survey of two-year-college presidents was made possible in part by advertising from Hobsons and Jenzabar.
Booklets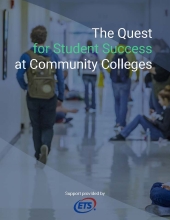 The Quest for Student Success at Community Colleges is Inside Higher Ed's latest compilation of articles.
As with other such print-on-demand booklets, the compilation groups together pieces that explore different strategies used by faculty members and institutions -- and efforts to track their success.
The booklet is free and you may download a copy here.
And you may sign up here for a free webinar on Wednesday, March 25, at 2 p.m. Eastern about the themes of the booklet.
This booklet was made possible in part through the advertising support of ETS.
Blogs
Confessions of a Community College Dean
November 29, 2015 - 9:17pm
Explaining the problems with a flawed analysis of higher education's problems.
Confessions of a Community College Dean
November 24, 2015 - 9:14pm
Confessions of a Community College Dean
November 23, 2015 - 9:05pm
Topics
Section Topics
Related Jobs
Welcome to Community College of Philadelphia, a public, open-admission institution that provides both academic resources and support services to help...
Located 30 minutes southwest of Chicago, Lewis University is a comprehensive, Catholic university where the traditions of liberal learning and...
Most
Past:
Day
Week
Month
Year