Community Colleges
Three Maryland community colleges plan to close a jointly run health education center because of enrollment changes.
Surveys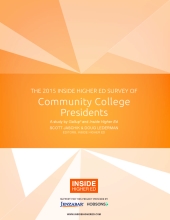 April 17, 2015 -- Inside Higher Ed's 2015 Survey of Community College Presidents explored the views of two-year-college leaders on a range of timely topics. The study was conducted in conjunction with researchers from Gallup.
Inside Higher Ed regularly surveys key higher ed professionals on a range of topics.
On Thursday, May 28, Inside Higher Ed editors analyzed the survey's findings and answered readers' questions in a free webinar. To watch the webinar, please click here.
The Inside Higher Ed survey of two-year-college presidents was made possible in part by advertising from Hobsons and Jenzabar.
Booklets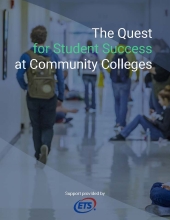 The Quest for Student Success at Community Colleges is Inside Higher Ed's latest compilation of articles.
As with other such print-on-demand booklets, the compilation groups together pieces that explore different strategies used by faculty members and institutions -- and efforts to track their success.
The booklet is free and you may download a copy here.
And you may sign up here for a free webinar on Wednesday, March 25, at 2 p.m. Eastern about the themes of the booklet.
This booklet was made possible in part through the advertising support of ETS.
Blogs
Confessions of a Community College Dean
February 9, 2016 - 9:35pm
The president of Mount St. Mary's needs to step down.
Confessions of a Community College Dean
February 9, 2016 - 3:40am
A new educational environment.
Confessions of a Community College Dean
February 7, 2016 - 9:12pm
It's time to challenge snobbery-based assumptions.
Topics
Section Topics
Related Jobs
Motivated Students Maryville University is a selective, comprehensive and nationally ranked private institution with nearly 6,000 students. We offer...
As the City College of San Francisco moves into the twenty-first century, our foremost vision is that we will continue to value and foster superior...
Most
Past:
Day
Week
Month
Year