Diversity
Annual survey of incoming college freshmen finds interest in student activism at all-time high, especially among black students.
Booklets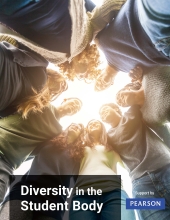 "Diversity in the Student Body" is a print-on-demand booklet focusing on demographic and legal issues and the strategies used by different institutions to diversify their campuses.
A copy of the the free booklet may be downloaded here.
And you may sign up here for a free webinar on the booklet's themes, to be held Tuesday, June 30, at 2 p.m. Eastern.
The booklet was made possible in part by the financial support of Pearson.
Blogs
Minor Details
January 23, 2013 - 10:04pm
When parents, teachers, lawmakers and communities debate over which part of the American education system should receive the most scrutiny or support, adult education, specifically General Educational Development (GED),  is rarely in contention. Conceptually adult education programs serve those who depart school without diplomas and are now seeking a credential to access the workforce or postsecondary opportunities.
Minor Details
September 13, 2012 - 9:21pm
Over the past couple of years the censoring of self-expression has been a hot topic on many campuses. Recently the media washed ashore a new wave of controversy concerning Hampton University's business school policy that restricts MBA students from wearing their hair in locs (or what is more commonly referred to as "Dread-locs"). This comes on the heels of the brouhaha that developed following the implementation of a written dress code policy at Morehouse College.
Minor Details
August 21, 2012 - 10:18am
In recent years the higher education community has focused more on the role institutions' play in student success. For a long time the blame for failure has been laid squarely at the feet of students.  If a student dropped out of college it was assumed that they were unmotivated, under-prepared, or lacked the aptitude required to be a college graduate.  The fact that dropouts were admitted meant that they somehow fell through an admissions crack undetected.
Topics
Section Topics
Related Jobs
Central Carolina Technical College is a comprehensive, public, two-year institution of higher education that is dedicated to fostering a positive...
Founded in 1830, the University of Richmond is one of America's premier private universities. The University blends the intimacy of a small college...
Most
Past:
Day
Week
Month
Year