Retirement Issues
Anger at faculty layoffs at Southern Maine boils over. Professors say administration is attacking tenure, pitting younger and older faculty members against one another, and undermining liberal arts.
Recent Articles
Surveys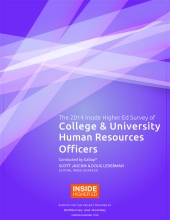 Sept. 29, 2014: Inside Higher Ed's 2014 Survey of College and University Human Resources Officers explored the views of these key campus leaders on issues such as adjunct pay, retirement, and
The survey was conducted in conjunction with researchers from Gallup. Inside Higher Ed regularly surveys key higher ed professionals on a range of topics.
A copy of the report can be downloaded here.
On Oct. 13, Inside Higher Ed Editors Doug Lederman and Scott Jaschik led a free webinar analyzing the survey's findings and answering readers' questions. View the webinar here.
The survey was made possible in part by financial support from SkillSurvey and Workday.
Topics
Section Topics
Related Jobs
From the very beginning, we have maintained a standard for education that prepares students to pursue careers in healthcare and technical fields. How...
NTC is a customer-focused, accessible provider of innovative lifelong learning that builds a globally competitive workforce. The College's 5,900...
Most
Past:
Day
Week
Month
Year