Student Aid and Loans
Temple hopes students will graduate earlier if they receive grants that limit them to working no more than 15 hours per week off campus.
Surveys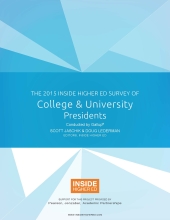 March 13, 2015 -- Inside Higher Ed's 2015 Survey of College and University Presidents explored the views of presidents on the financial sustainability of their institutions, the Obama administration's rating system, sexual assault, race and their role in the tenure process, among other topics.
The survey was conducted in conjunction with researchers from Gallup Education. Inside Higher Ed regularly surveys key higher ed professionals on a range of topics.
On April 14, Inside Higher Ed Editors Doug Lederman and Scott Jaschik analyzed the survey's findings and answered readers' questions about them in a free webinar. View the webinar here.
The
Inside Higher Ed
survey
of
presidents
was made possible in part by advertising from Academic Partnerships, Jenzabar and Pearson.
Booklets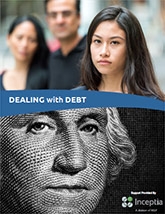 "Dealing With Debt " is Inside Higher Ed's latest print-on-demand compilation of articles. It explores such topics as student loan default rates, income-based repayment, financial aid simplification and other topics.
The booklet is free and you may download a copy here.
This booklet is part of a series of such compilations that Inside Higher Ed is publishing on a range of topics.
Inside Higher Ed will present a free webinar on Wednesday, June 10, at 2 p.m. Eastern, about the themes of the booklet. Click here to sign up.
This booklet was made possible in part through the financial support of Inceptia.
Topics
Related Jobs
Fayetteville State University (FSU) is a member of the prestigious University of North Carolina System. Situated in southeastern North Carolina, FSU...
The University of Connecticut is one of the nation's Top 20 Public Universities ( U.S. News & World Report ). UConn's main campus in Storrs is...
Most
Past:
Day
Week
Month
Year