You have /5 articles left.
Sign up for a free account or log in.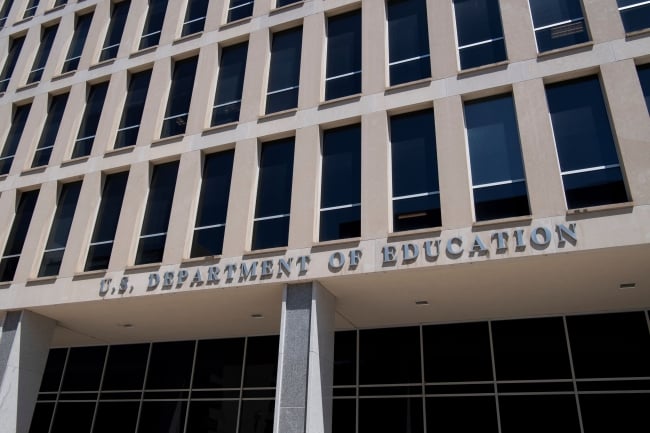 Caroline Brehman/CQ-Roll Call Inc./Getty Images
(Note: This article has been corrected to reflect that the recent actions to provide relief to borrowers in Colorado was done under a previous set of borrower-defense rules, not those subject to the court's order.)
A federal appeals court has blocked the latest version of U.S. Education Department rules that allow borrowers to apply for relief from their student debt if their college or university misled them or violated certain state laws.
Known as borrower defense to repayment, the regulations—which took effect July 1—made it easier for borrowers who were defrauded or misled by a college to seek relief and potentially see their loans discharged. The Biden administration recently used the previous set of borrower-defense rules to forgive $130 million in student loans for 7,400 borrowers who were enrolled at a for-profit college in Colorado that closed in 2020.
Department officials said last month to expect more loan discharges related to borrower defense. The new rules apply to "all claims pending on or received on or after July 1, 2023," according to a department fact sheet.
A trade association representing for-profit colleges in Texas sued the Biden administration in February, arguing that the new regulations affecting borrower defense to repayment claims and closed-school discharges exceeded the Education Department's authority and were unconstitutional.
"The apparent goals of this new framework are to accomplish massive loan forgiveness for borrowers and to reallocate the correspondingly massive financial liability to institutions of higher education," Career Colleges & Schools of Texas (CCST) wrote in its initial complaint. "The final rule will cause financial and reputational harm to schools, educational harm to students, and budgetary harm to the public fisc."
A federal judge denied the group's motion for a preliminary injunction but did put the new rules on hold for the association's members while the case was appealed. The Texas group appealed that decision to the U.S. Court of Appeals for the Fifth Circuit, seeking a national injunction. A three-judge panel granted the request in a brief order and scheduled a hearing for Nov. 6.
To grant an injunction, a court must decide in part whether the party suing can show that it would suffer irreparable harm and that it is likely to succeed on the merits. The order didn't take a stance on the merits of CCST's argument.
Debt relief and consumer protection advocates criticized the appeal court's decision.
"This unexplained order from the Fifth Circuit is a gift to those who wish to operate predatory education schemes with impunity," said Eileen Connor, president and director of the Project on Predatory Student Lending. "Borrower defense is an essential safeguard that has been in place for decades. It is necessary to protect students from being scammed, and it ensures that predatory actions come to light and are stopped before they go on to harm even more students."
Aaron Ament, president of the National Student Legal Defense Network, said in a statement that defrauded students are legally entitled to relief.
"Until these protections are restored, countless students are at risk of being taken advantage of by higher ed profiteers who are exploiting students with little accountability," Ament said.
Career Education Colleges and Universities, the national association representing for-profit institutions and a supporter of the lawsuit, opposed the new borrower-defense rule in comments to the Education Department and led a campaign about the rule's "devastating impact." It applauded the court's order.
"CCST's legal case against the Department of Education's unlawful BDR rule is strong and we are confident that when the case is brought forward the facts will show the new rule to be an agency overreach in violation of the department's authority, the Administrative Procedure Act, and the Constitution," CECU president Jason Altmire said in a statement.
Other higher education associations, including the American Council on Education, were generally supportive of the department's goals in crafting the new borrower-defense rules. In comments to the department, ACE did raise concerns about how the rules could have "negative unintended consequences for institutions acting in good faith and in compliance with the spirit of the proposed regulations."
CCST wrote in filings that the rule was not fair and equitable for institutions, depriving them of a chance to respond to claims in borrowers' applications for debt relief.
"The department compounded this overreach by stacking the deck in favor of borrowers and against schools; the rule imposes strict liability upon schools for even unintentional erroneous representations or omissions, and then irrationally presumes that every borrower in the group would not have attended the school but for the school's act or omission, whatever it is," the group wrote in filings.
Under the regulations, the department can grant relief based on one of five circumstances: substantial misrepresentation, substantial omission of fact, breach of contract, aggressive and deceptive recruitment, or judgments or final secretarial actions.
CCST wrote in filings that the new rules have created compliance costs for institutions by having to preserve more student records and to provide training for staff to avoid misrepresentations in talking to students, among other costs. Those costs amount to an irreparable harm, which is the key standard for an injunction, the association argued.
One CEO testified that in preparation for the new rules, his institution has been "dedicating or allocating staff and resources to handle the anticipated flood of meritless borrower defense claims that will be submitted following the effective date," according to the injunction motion.
The Biden administration argued in filings that the Texas group has not established irreparable harm and the 2022 regulations are similar to previous iterations in 2016 and 2019.
"CCST nevertheless asserts that its members are injured by the borrower-discharge provisions on the theory that the schools' contemporary conduct could one day lead to a borrower-defense claim, and, if that claim is granted, the department could then seek to hold the school liable for any discharged loans in a hypothetical recoupment proceeding," the administration wrote.