Affirmative Action
Many colleges want more ethnically and racially diverse faculty members. But should searches be limited to underrepresented groups? One university just tried.
Booklets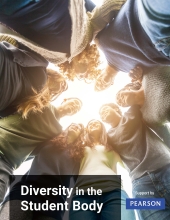 "Diversity in the Student Body" is a print-on-demand booklet focusing on demographic and legal issues and the strategies used by different institutions to diversify their campuses.
A copy of the the free booklet may be downloaded here.
And you may sign up here for a free webinar on the booklet's themes, to be held Tuesday, June 30, at 2 p.m. Eastern.
The booklet was made possible in part by the financial support of Pearson.
Topics
Related Jobs
Motivated Students Maryville University is a selective, comprehensive and nationally ranked private institution with nearly 6,000 students. We offer...
As the City College of San Francisco moves into the twenty-first century, our foremost vision is that we will continue to value and foster superior...
Most
Past:
Day
Week
Month
Year