The Curriculum
Southern Utah University goes all in with an experiment on general education, combining 13 courses into one year of material that eight professors jointly teach.
Booklets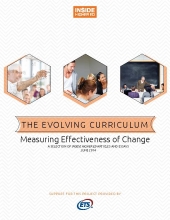 "The Evolving Curriculum -- Measuring Effectiveness of Change" is a compilation of articles and essays on efforts to reshape what and how colleges teach at a time of increased concern about how much students learn. The news and opinion articles -- collected in a print-on-demand booklet -- surveys the landscape of curricular development and learning assessment, examining trends and highlighting best practices.
Download the booklet here.
This booklet is part of a series of such compilations that Inside Higher Ed is publishing on a range of topics.
On June 26, Inside Higher Ed Editors Scott Jaschik and Doug Lederman discussed the topics raised in the booklet's articles and answered questions in a free webinar. To view the webinar, please click here.
This booklet was made possible in part through the advertising support of the Educational Testing Service (ETS).
Topics
Related Jobs
Case Western Reserve University is among the nation's leading research institutions. Founded in 1826 and shaped by the unique merger of the Case...
Mount Saint Mary's University is an independent, Catholic, liberal arts college which provides a values-based undergraduate education for women, as...
Most
Past:
Day
Week
Month
Year