Digital Learning
Grand Canyon University's for-profit spin-off takes a bold step into the online program management space with acquisition of Orbis Education.
Recent Articles
The online course provider launches a slew of programs aimed at health care professionals, but observers wonder if the credentials will stand out in a crowded space.
Recent Articles
Surveys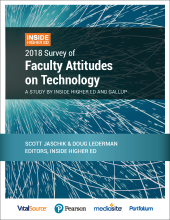 Blogs
Online: Trending Now
December 12, 2018 - 3:00am
The growing use of voice search and virtual digital assistants will have an increasing impact on how we deliver, search for and market higher education.
Online: Trending Now
November 28, 2018 - 3:00am
Much is written about strengthening the link between education and employment. Jobs are changing and likely to continue to evolve over the coming decades. Education must evolve, too.
Online: Trending Now
November 14, 2018 - 3:00am
Google has dominated search for 20 years. But results today are far too often tainted with information that is incomplete, misleading or false. MIT aims to address that problem with the knowledge graph Underlay.