Digital Learning
Grand Canyon University's for-profit spin-off takes a bold step into the online program management space with acquisition of Orbis Education.
Recent Articles
Arkansas's public university system established a separate online institution in 2016. It's grown steadily, but more slowly than leaders had hoped.
Recent Articles
Surveys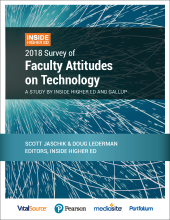 Blogs
Online: Trending Now
How can we be sure we are identifying the most important risks in our changing field and are prepared to mitigate their potential impact?
Online: Trending Now
Online courses are changing -- sometimes less open, sometimes less massive -- but they're still relevant.
Online: Trending Now
February 20, 2019 - 3:00am
With its online master's in computer science and its recent commitment to a lifetime of education for its students, Georgia Tech challenges MIT as most innovative university.