Digital Learning
In its quest to find a sustainable business model, online course provider edX will test charging users for access to previously free content. Observers say the move was inevitable.
Recent Articles
North Dakota students saved more than $1 million on textbooks after the state invested just $110,000 to help instructors use open educational resources. Audit identifies successes and ongoing challenges.
Recent Articles
Surveys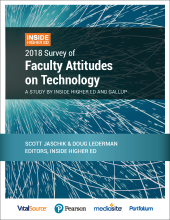 Blogs
Online: Trending Now
November 14, 2018 - 3:00am
Google has dominated search for 20 years. But results today are far too often tainted with information that is incomplete, misleading or false. MIT aims to address that problem with the knowledge graph Underlay.
Online: Trending Now
October 31, 2018 - 3:00am
Affordable degrees at scale have arrived. The momentum behind this movement is undeniable, and its impact will be significant, Ray Schroeder writes.