Digital Learning
Grand Canyon University's for-profit spin-off takes a bold step into the online program management space with acquisition of Orbis Education.
Recent Articles
As numerous law schools try to take advantage of new flexibility from their accreditor, some state policies lag behind those ambitions.
Recent Articles
Surveys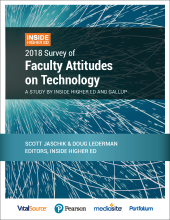 Blogs
Online: Trending Now
January 23, 2019 - 3:00am
Every year our degrees "expire" in relevancy and timeliness if we don't refresh each class with an eye to the future, Ray Schroeder argues.
Online: Trending Now
December 12, 2018 - 3:00am
The growing use of voice search and virtual digital assistants will have an increasing impact on how we deliver, search for and market higher education.
Online: Trending Now
November 28, 2018 - 3:00am
Much is written about strengthening the link between education and employment. Jobs are changing and likely to continue to evolve over the coming decades. Education must evolve, too.