Digital Learning
Grand Canyon University's for-profit spin-off takes a bold step into the online program management space with acquisition of Orbis Education.
Recent Articles
Students in Brandeis's graduate programs complained they didn't feel prepared when they arrived on campus. The institution turned to an online platform for a solution.
Recent Articles
Surveys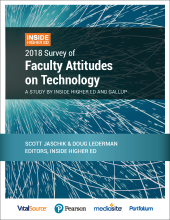 Blogs
Online: Trending Now
February 20, 2019 - 3:00am
With its online master's in computer science and its recent commitment to a lifetime of education for its students, Georgia Tech challenges MIT as most innovative university.
Online: Trending Now
February 6, 2019 - 3:00am
A centuries-old challenge for teachers has been how to adapt learning materials and presentations to meet the varied backgrounds and abilities of students. Emerging technologies, Ray Schroeder writes, can help meet students where they are and customize learning for them.
Online: Trending Now
January 23, 2019 - 3:00am
Every year our degrees "expire" in relevancy and timeliness if we don't refresh each class with an eye to the future, Ray Schroeder argues.