Faculty
Leaders of U of Kansas, trying to avoid becoming the next U of Missouri, hold intense, lengthy meeting with hundreds of minority students. Can the university deliver what they want?
Surveys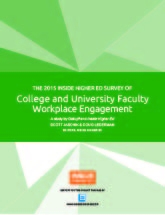 Oct. 23, 2015 -- Inside Higher Ed's 2015 Survey of College and University Faculty Workplace Engagement is a new survey exploring professors' views on how engaged they are. The survey was conducted in conjunction with researchers from Gallup.
Inside Higher Ed regularly surveys key higher ed professionals on a range of topics.
A copy of the report can be downloaded here.
On Thursday, Nov. 19 at 2 p.m. Eastern, Inside Higher Ed's Scott Jaschik and Doug Lederman will conduct a free webinar analyzing the survey's findings and answering readers' questions. To register for the webinar, please click here.
The survey was made possible in part by financial support from TIAA-CREF.
Booklets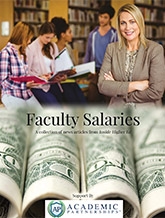 "Faculty Salaries" is Inside Higher Ed's latest print-on-demand compilation of articles.
It contains a report on the annual faculty compensation survey from the American Association of University Professors and explores such topics as gender and racial pay gaps and adjunct unionization.
This compilation is free and you may download a copy here.
And you may sign up here for a free webinar on Thursday, August 20, at 2 p.m. Eastern about the themes of the booklet.
The publication of this booklet was made possible in part by the advertising support of Academic Partnerships.
Topics
Related Jobs
Founded in 1846, Grinnell College is a highly selective residential liberal arts college that enrolls 1,500 students from every state and about 50...
Morgan State University, a coeducational institution, is located in a residential section of Baltimore, Maryland. The campus covers an area of more...
Most
Past:
Day
Week
Month
Year