Foreign Students
U.S. universities are increasingly dependent on growing enrollments of students from China. Will the growth continue amid an economic slowdown?
Booklets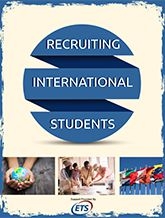 "Recruiting International Students" is Inside Higher Ed's new print-on-demand compilation of articles.
The booklet features articles about trends, debates and strategies of a range of institutions.
The compilation is free and you may download a copy here.
Inside Higher Ed will present a free webinar on Thursday, August 27, at 2 p.m. Eastern, about the themes of the booklet.
Please click here here to register or find out more.
The publication of this booklet was made possible in part by the advertising support of ETS.
Topics
Related Jobs
About UMHB The University of Mary Hardin-Baylor was chartered in 1845 by the Republic of Texas. Location Belton is located in the heart of Central...
Linfield College, a private, comprehensive, undergraduate institution located in the Pacific Northwest, connects the traditional liberal arts with a...
Most
Past:
Day
Week
Month
Year