Online and Blended Learning
Online and Blended Learning
From rural New Hampshire to urban Miami, community college students, faculty and administrators are broadly enthusiastic about digital learning options, according to a new report.
Recent Articles
The online program management company buys assets of HotChalk, another OPM, whose biggest client, Concordia Portland, closed early this year.
Recent Articles
Booklets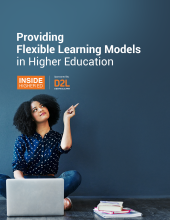 "Providing Flexible Learning Models in Higher Education" is a new free compilation of articles and essays from Inside Higher Ed. You may download the print-on-demand booklet here.
On Wednesday, September 7, at 2 p.m. Eastern, Inside Higher Ed editors will lead a free webcast to discuss the themes of this collection. Click here to register.
This booklet was made possible in part by the support of D2L.
Topics