Students
Leaders of U of Kansas, trying to avoid becoming the next U of Missouri, hold intense, lengthy meeting with hundreds of minority students. Can the university deliver what they want?
Booklets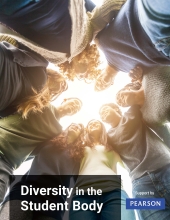 "Diversity in the Student Body" is a print-on-demand booklet focusing on demographic and legal issues and the strategies used by different institutions to diversify their campuses.
A copy of the the free booklet may be downloaded here.
And you may sign up here for a free webinar on the booklet's themes, to be held Tuesday, June 30, at 2 p.m. Eastern.
The booklet was made possible in part by the financial support of Pearson.
Topics
Related Jobs
Founded in 1933, North Idaho College is a comprehensive community college located on the beautiful shores of Lake Coeur d'Alene. NIC offers degrees...
Our 102-acre North Campus is conveniently located in the North Carolina Piedmont, just off Interstate Highway 85 in Rowan County, within an hour's...
Most
Past:
Day
Week
Month
Year