Students
Leaders of U of Kansas, trying to avoid becoming the next U of Missouri, hold intense, lengthy meeting with hundreds of minority students. Can the university deliver what they want?
Booklets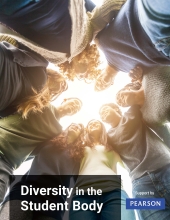 "Diversity in the Student Body" is a print-on-demand booklet focusing on demographic and legal issues and the strategies used by different institutions to diversify their campuses.
A copy of the the free booklet may be downloaded here.
And you may sign up here for a free webinar on the booklet's themes, to be held Tuesday, June 30, at 2 p.m. Eastern.
The booklet was made possible in part by the financial support of Pearson.
Topics
Related Jobs
Northeastern , founded in 1898 and located in Boston, is a global university with a tradition of partnership and engagement that creates an...
For more than 130 years, Sam Houston State University (SHSU) has been preparing students for meaningful lives of achievement. Its motto, "The measure...
Most
Past:
Day
Week
Month
Year