Students
Leaders of U of Kansas, trying to avoid becoming the next U of Missouri, hold intense, lengthy meeting with hundreds of minority students. Can the university deliver what they want?
Booklets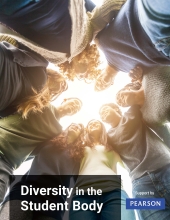 "Diversity in the Student Body" is a print-on-demand booklet focusing on demographic and legal issues and the strategies used by different institutions to diversify their campuses.
A copy of the the free booklet may be downloaded here.
And you may sign up here for a free webinar on the booklet's themes, to be held Tuesday, June 30, at 2 p.m. Eastern.
The booklet was made possible in part by the financial support of Pearson.
Topics
Related Jobs
Case Western Reserve University is among the nation's leading research institutions. Founded in 1826 and shaped by the unique merger of the Case...
Mount Saint Mary's University is an independent, Catholic, liberal arts college which provides a values-based undergraduate education for women, as...
Most
Past:
Day
Week
Month
Year