Teaching With Technology
Professors at U of Wisconsin at Madison hope to find a way to revolutionize teaching, helping teachers find out exactly how their students learn and the best ways to teach subjects students may struggle with.
Booklets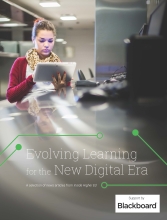 "Evolving Learning for the New Digital Era" is the latest in our series of print-on-demand booklets.
Articles focus on changing methods of teaching and learning -- and the strategies used by different institutions.
You may download the free booklet here.
And you may sign up here for a free webinar on the booklet's themes, to be held Wednesday, July 8, at 2 p.m. Eastern.
This booklet was made possible in part by the financial support of Blackboard.
Topics
Related Jobs
The University of La Verne is a 124 year old, independent, comprehensive, doctoral granting institution in southern California with an emphasis on...
The mission of Pasadena City College is to provide a high quality, academically robust learning environment that encourages, supports and facilitates...
Most
Past:
Day
Week
Month
Year