Teaching With Technology
The Education Department's inspector general is auditing Western Governors U over the faculty role in its competency-based programs. The high-stakes audit is relevant to other colleges and forms of online learning.
Surveys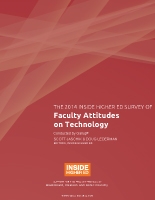 Oct. 29, 2014 -- Inside Higher Ed's 2014 Survey of Faculty Attitudes on Technology examined the views of faculty members and academic technology administrators on online education and a range of other technology-related issues.
The survey was conducted in conjunction with researchers from Gallup. 
Inside Higher Ed regularly surveys key higher ed professionals on a range of topics. A copy of the report can be downloaded here.
On Nov. 18, Inside Higher Ed's Scott Jaschik and Carl Straumsheim conducted a free webinar analyzing the survey's findings and answering readers' questions. To view the webinar, please click here.
The survey was made possible in part by financial support from Blackboard, Pearson and Sonic Foundry.
Booklets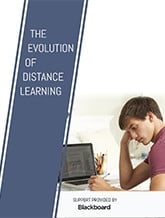 "The Evolution of Distance Learning" is Inside Higher Ed's latest compilation of articles.
The print-on-demand booklet features articles about a range of institutions and approaches.
This compilation is free and you may download a copy here.
Inside Higher Ed featured a webinar on October 13 in which its editors and reporters discussed the themes of the booklet. Click here to listen to the webinar.
This booklet was made possible in part by the advertising support of Blackboard. 
Blogs
Hack (Higher) Education
A book review, of sorts, of Kio Stark's Don't Go Back to School, along with the larger "don't go to college" narratives.
Hack (Higher) Education
What impact has all the hype and interest in MOOCs had on open courseware initiatives, specifically those at MIT?
Hack (Higher) Education
December 28, 2012 - 10:07am
The last in my series reviewing the year's most important ed-tech trends...
Topics
Related Jobs
Metropolitan State University of Denver provides students with a transformative academic experience and serves the community as a courageous change...
A New University with a Long History The University of Texas Rio Grande Valley was created by the Texas Legislature in 2013 in a historic move that...
Most
Past:
Day
Week
Month
Year