Learn what happens when the director of a public university's school of kinesiology leads an effort to convert a low-completer program to a totally online program, expecting to support her faculty with resources and guidance, only to realize that "her course" would have to be the first to be converted. It is through her unique experience, serving as both an administrator and faculty member, that Dr. Bryan shaped a viewpoint, and eventually a career direction, that is centered around online teaching and learning.
In this webinar, Dr. Bryan debunks myths, shares research and offers her insights and experiences that touch on the most hotly debated issues surrounding online. She discusses in the most practical terms the barriers to online (real and perceived), practical challenges facing faculty and administrators, and lessons learned over the years. Dr. Bryan is dynamic and highly energetic speaker and is especially honest about her own preconceived ideas and the successes and missed opportunities she has witnessed.
You can view the webinar below, and download the accompanying slide deck here [1]. Charity Bryan responded to many insightful questions from participants. You will find answers to all of the questions submitted during the webinar here [2].
Image: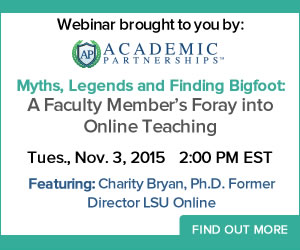 Event's date:
Tuesday, November 3, 2015 - 2:00pm