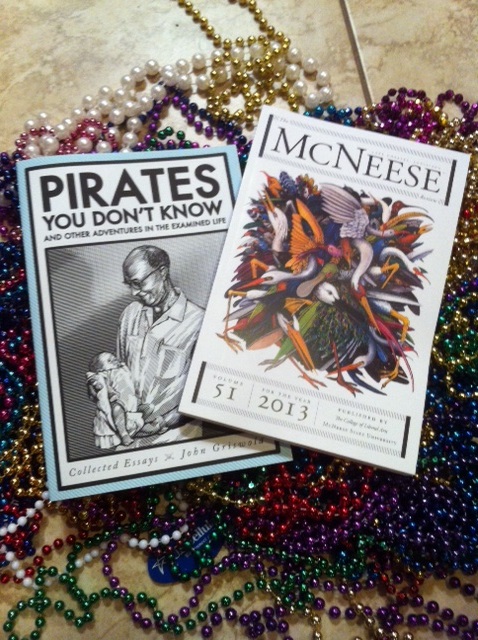 For those of you attending the big AWP conference in Seattle this week, we hope you'll drop by the McNeese Review/MFA Program table, located at N8 in the exhibition hall. We'll have copies of the Review for sale deeply discounted, as well as Mardi Gras beads straight from southwest Louisiana, little pirate ducks (this is Jean Lafitte country), and temporary tattoos. Best of all will be the sparkling conversation.
This issue of the Review, hot off the press, is our 51st and contains poetry and prose by Richard Bausch, Bayo Ojikutu, Patrick Michael Finn, Serena Crawford, Lynn Kilpatrick, and Jennifer Ombres, to name a few hi-test people. Art is by Dmitry Borshch (his ink drawing of the Bush-Maliki news conference is tattoo-worthy itself) and Ed Smith (cover), who teaches painting at LSU. I'm telling you.
I'll also be signing copies of my new book, Pirates You Don't Know, and Other Adventures in the Examined Life [2], at the University of Georgia Press table, located at #1202. That happens Friday, 11:00-11:45. I'll be doing readings in New Orleans, Houston, Austin, and elsewhere this spring, but this may be the one and only chance to get my old friend Frenchy, whom I've written about many times here and in the book and elsewhere, to sign too.
Hope to see you there!