Strategy can be described as making purposeful choices about what to do and what not to do.
"Bringing Science to the Art of Strategy," [2] from Harvard Business Review Magazine, deftly explains how two seemingly opposite approaches to strategy formulation – creative brainstorming and structured analysis -- can work together.
Written by A.G. Lafley, Roger L. Martin, Jan W. Rivkin and Nicolaj Sigglekow, the article previews Lafley and Martin's upcoming book, Playing to Win, available in February 2013. You can download a free chapter of Playing to Win here [3].
The graphic below visually represents the article's more than 5,000 words, the larger the word the more times it was used in the article. It's fitting that the largest word, "possibility," is where the process begins.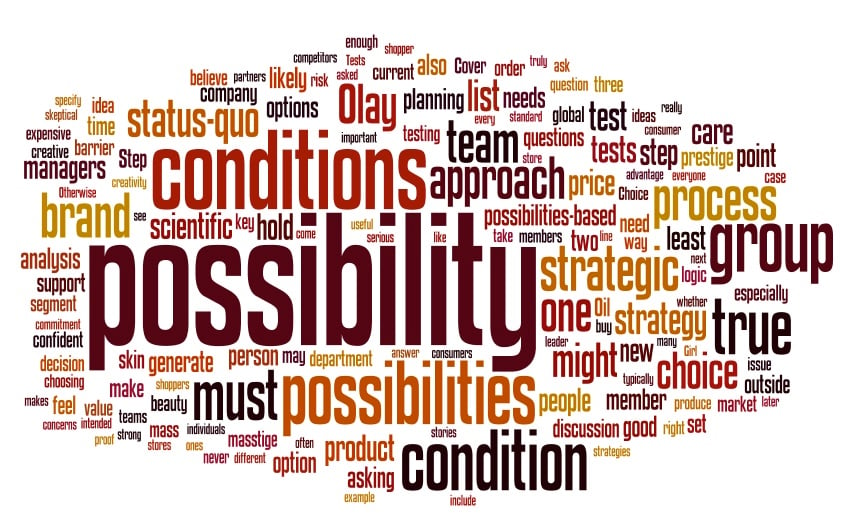 They write, "The approach we're about to describe adapts the scientific method to the needs of business strategy. Triggered by the emergence of a strategic challenge or opportunity, it starts with the formulation of well-articulated hypotheses – what we term possibilities. It then asks what would have to be true about the world for each possibility to be supported. Only then does it unleash analysis to determine which of the possibilities is most likely to succeed. In this way, our approach takes the strategy-making process from the merely rigorous (or unrealistically creative) to the truly scientific."
Here are the "Seven Steps to Strategy Making" the authors describe:
1. Frame a choice
2. Generate possibilities
3. Specify conditions
4. Identify barriers
5. Design tests
6. Conduct the tests
7. Make your choice
Two ideas readily stood out. First, when generating possibilities the authors have found that "people from outside the firm, preferably outside the industry, often lend the most original ideas." This is further evidence that it can be valuable to study other industries and think about how things might apply within higher education.
Second, they share several ideas for dealing with skeptics, who tend to be a common challenge in higher education. They emphasize the importance of everyone's concerns being validated and considered seriously to ensure a sound idea is not derailed in the end. They also advise, "The member who is most skeptical about a given condition should take the lead in designing and applying the test for it."
While the book won't be released for a few months, the article [2] provides many ideas to immediately digest.