Cyrus Beschloss began his reporting career with an ill-advised practice -- reading the comments on his own stories.
The junior at Williams College was surprised that his political pieces in a local Massachusetts paper, The Berkshire Eagle, generated so much vehemence in response. He was surprised that its readers cared so much about what college freshman, then 18 years old, had to say about Bernie Sanders's election battle cry, or Donald Trump's candidacy, which Beschloss deemed in February 2016 "a distraction."
The backlash to his pieces sparked the beginnings of an idea, a platform for college students to share their opinions about the issues du jour.
About two years later, Beschloss heads College Reaction [1], a website that seems to fulfill his initial vision, a place for college students from all over the country to publish their thoughts on Oprah's apparent 2020 presidential run, or Time's Up, the new Hollywood movement against sexual harassment and assault.
In an interview, the Washington, D.C., native, now a junior at Williams, suggested he's occupying a journalistic niche that no other outlet is.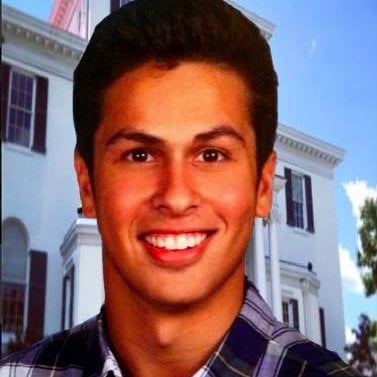 Campus newspapers tend to deliver straightforward news about the sub shop closing down the street, Beschloss said, which he doesn't discredit, but he said he wants to think more broadly.
"Kids do want to engage in the national discourse and engage in robust debate, and we cross-fertilize that with counterparts from other campuses," he said.
After scouring the internet, Beschloss's model does seem to be relatively unique. Many websites offer a spot to blog and share writing, but few cater toward traditional college students.
College Fix [2], a conservative-leaning news blog with ties to Education Secretary Betsy DeVos [3], tends to home in on campus-level controversies and picks students to write about them, often with sensational headline designed to enrage a right-wing audience
Perhaps the closest to College Reaction, a bipartisan site, was USA Today's now defunct USA Today College, which provided a campus correspondent program in which students could research and report on campus news. It closed [4] in September.
College Reaction started to take off in the summer last year, when Beschloss participated in a D.C. start-up program, 1776. He recruited rapidly, he said, at first through word of mouth, a friend of a friend who might want to write, then directly emailing some opinion writers published in student newspapers. Ultimately he ended up with about 60 students, and he intends to cap it there for now.
Beschloss couldn't provide any information on College Reaction's web traffic, saying he hadn't yet set up Google Analytics on the current site.
But he talks proudly about a couple of particular pieces.
After the white supremacist riots in Charlottesville, Va., last August, both in the city and on the University of Virginia campus, many criticized Trump for seemingly defending white nationalists who marched the UVA grounds chanting Nazi refrains, one of whom is charged with first-degree murder for driving his car into a crowd of counterprotesters, killing a woman.
On College Reaction, the UVA College Republicans' president wrote a takedown [5] of the men who invaded the campus and called Trump's response "tepid." Beschloss said this, along with a video montage of other heads of GOP student groups slamming white nationalists, earned the site quite a bit of attention.
The op-ed by the UVA Republican president was republished on The Huffington Post, with which Beschloss has tried to partner, among other news media. He said he would like to amplify the voices of his writers through these well-known channels, and hopefully with more recognition will come the ability to secure press passes to cover significant events, such as big rallies on campuses.
His plans don't stop there.
In addition to his opinion writers, Beschloss has wooed student statisticians to help conduct campus polls. They've completed about a dozen -- on what mobile apps students rely on most, on presidential and congressional approval ratings -- but so far but have kept the results private, as for now they are more of a showcase of the potential abilities of the website, Beschloss said.
The surveys have been done in person at the institutions these student pollsters attend. Potentially, College Reaction would like to develop an app, which Beschloss compared to ride-sharing app Uber, but the Uber of polling, where students can help compile data themselves.
Hardly anyone has been paid. The operation remains small, with Beschloss footing most of the expenses -- the website -- out of pocket. It is free of advertisements and Beschloss doesn't have plans to monetize or turn it into a nonprofit -- yet.
Some of the writers who joined early on might have gotten a few dollars for a piece, but that was more of a show of faith to them to continue the work rather than real compensation, he said.
He hopes to raise money soon by appealing to backers who "support their mission," Beschloss said -- he listed no other criteria for whom he'd like to target. Then he could give his writers a monthly or maybe yearly stipend, and potentially expand into more detailed reporting.
"Getting them right in the middle of the storm," Beschloss said, describing writers dining with sources or covering one of the more frenzied campus protests.
Beschloss -- whose father, Michael Beschloss, is a well-known presidential historian -- is a relative journalistic novice. His high school never sponsored a student newspaper, he was turned away from a sports editor position at the Williams paper and he's not a journalism major -- the college doesn't have one. He's a history major, mulling adding Spanish, too, and a member of Williams's Division III baseball team.
But maybe, he said, he will take on College Reaction full-time after he graduates.
"I've sort of fallen in love with it," he said.