Racial and ethnic minorities are underrepresented among higher education staff members and are on the losing end of a pay gap, according to a new survey from an association of higher education human resources professionals that covers staff age, gender, race, ethnicity, pay and tenure.
Only 29 percent of higher ed staff members are racial or ethnic minorities, CUPA-HR's annual Staff in Higher Education Salary Survey [1] found. Minority staff members are better represented in some types of positions than in others, holding about 40 percent of service and maintenance positions versus only 16 percent of skilled craft positions.
They also generally earn less than their white counterparts. The pay gap between minority and white staff members is largest among service and maintenance staff members -- minority service and maintenance staff members only earn 90 cents on the dollar compared to white staff members. A pay gap exists in all types of positions except for office and clerical positions. Asian staff members are paid at or above equity levels for all positions except for service and maintenance positions, however.
Women are paid less than men in nearly all types of staff positions, with the exception of office and clerical work. The largest gender pay gap exists among women and men service and maintenance workers. Women working in that area take home just 86 cents on the dollar in comparison to men.
Higher ed staff members collect annualized median pay of $35,000. Skilled craft workers collect the highest annualized median pay, $47,000. Service and maintenance workers have the lowest, $30,000.
Over all, the median tenure in higher ed staff positions is four years. Salaries are highest in the Northeast and lowest in the South. CUPA-HR also found a lack of young skilled craft workers.
The survey was based on data for 169,358 staff members at 737 higher ed institutions.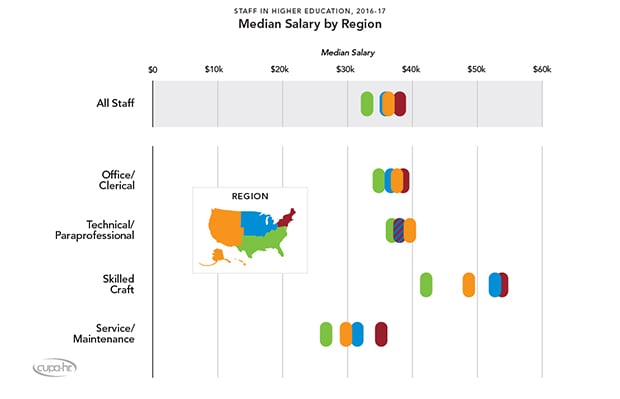 Disable left side advertisement?:
Is this Career Advice newsletter?: