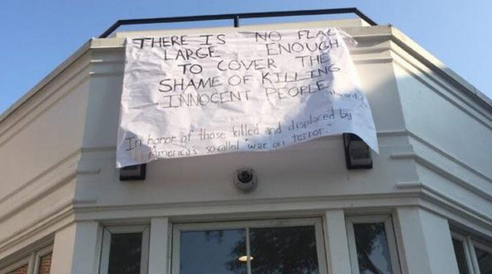 Someone (or a group of people) hung a banner from the roof of a dining hall at Amherst College Monday, and the college has been criticized on conservative websites over the message on the banner, and its timing, appearing Sept. 11. The banner says, "There is no flag large enough to cover the shame of killing innocent people," followed by "In honor of those killed and displaced by America's so-called war on terror." The banner has prompted much anger on social media, and conservative media entities [1] have published critical stories about it. The flag quote comes from Howard Zinn, the late radical historian.
An Amherst spokeswoman said that the college does not know who put up the banner. And while the college has criticized the banner, it has defended the right of whoever placed it there to express a point of view.
A statement from the college said, "The college found the message deeply insensitive, especially on that particular day. We commemorated the victims of Sept. 11 on campus, online and on our social media channels in what we believe was an appropriate manner for our community. Free speech enables all citizens of this country to express their opinions, even if their views are expressed in a manner that might offend. Particularly as an institution that champions academic freedom and freedom of expression, the college has an obligation to uphold that right."
Disable left side advertisement?:
Is this Career Advice newsletter?: