| | | |
| --- | --- | --- |
| | April 2018 | |
Inside Higher Ed launched a completely revamped recruiting site a few weeks back. After an initial shakeout period that included more bugs than we might have hoped, the site is now running smoothly. We'd love to hear what you think! Send feedback, suggestions or (kindly worded) critiques to publisher@insidehighered.com. And as always, if you need assistance with anything, give us a call at 202-659-9208 or drop us a line at recruiting@insidehighered.com.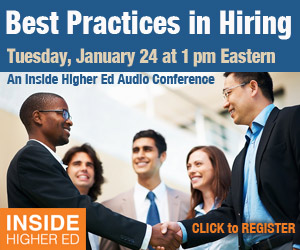 Be sure to register for our upcoming audio conference, Best Practices in Hiring.
Even in tight financial times, colleges must work to ensure they have used best practices not only to create the most optimal candidate pools, but also to protect themselves from legal vulnerabilities.

On Tuesday, January 24 at 1 p.m. Eastern, Kathleen A. Rinehart, general counsel at Saint Xavier University and a principal at Conflict Consultants Network, will provide guidance on the development of effective tools to improve the hiring process and ensure legal compliance. The presentation will apply both to faculty and non-faculty hiring.
Click here to register or for more information about this low cost event.
FOOD FOR THOUGHT
"When the recruiting and marketing departments are on the same page, that's a good thing. But what if they're not only on the same page, but they're the same person?" That's the question Todd Rafael explores in his terrific interview with Anita Jackson, the chief brand officer AND the director of human resources at Women's Healthcare Associates, LLC.
In this seven minute video, Ms. Jackson shares her thoughts on whether her organization's model could work in a larger organization, and how this unique structure affects the candidate experience.
Want to learn more about how your institution's marketing and HR departments can (and should) work together? Check out Inside Higher Ed's lively report on employment marketing.
JOB MARKET NEWS
Culture Gap -- Iowa professor's critique of small town life in his adopted state reflects tensions many faculty members overcome as they take jobs in places they never imagined would be home.
Go Native, Be Happy -- In a related column, Nate Kreuter, an assistant professor of English at Western Carolina University, writes that no matter where you end up, there will be good things about your new home.
Making Advising Central -- Beloit College is elevating this responsibility so that it joins teaching, research and service in tenure decisions.
Islam (and Conflict) in Class -- Tarrant County College professor resigns after Muslim students disrupt his class.
Tenure Conversion
-- A community college in Michigan will grant tenure or tenure-track status to all full-time faculty, bucking the adjunctification trend in higher ed.
NEW TO THE COMMUNITY
Welcome to the new and renewing annual contract recruiters that signed on with Inside Higher Ed in March. Openings at these schools are now making our Dual Career Search even more useful to job seekers - and to other institutions in their communities.
© Copyright 2018
Inside Higher Ed
Inside Higher Ed • 1015 18th Street NW, Suite 1100 • Washington, DC 20036