| | | |
| --- | --- | --- |
| | April 2018 | |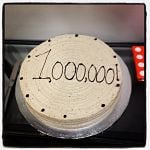 It's official! More than 1,000,000 unique visitors found something to read, share, or discuss on Inside Higher Ed in February. Thanks to all our readers, writers, advertisers and job seekers for getting us to this thrilling milestone (and giving us an excuse for cake).
FOOD FOR THOUGHT
Add video to your Featured Employer Profile page for extra impact.
Your Featured Employer Profile is a key part of your recruitment marketing presence on Inside Higher Ed (and part of your unlimited posting package). Give your profile extra oomph by adding embedded video -- it's easy!
If you have a great video available on YouTube, send us the link and we'll embed the video right on your profile page (see an example here).
Not using YouTube? No problem - just send us an embed link to video on your own site and we'll work with that. Drop a line to Kathlene Collins at kathlene.collins@insidehighered.com for assistance.
JOB MARKET NEWS
Stewards of Place -- The University of North Carolina Charlotte is discussing plans to give community engagement a bigger role in promotion and tenure.
Cuts Ahead -- The University of Northern Iowa might be moving to cut 30 faculty jobs and eliminate some undergraduate programs. Faculty members are upset, and so are students.
Voting Rights for Adjuncts -- Boston University gives those who do a lot of the teaching the right to have a say in faculty governance.
Post-Tenure Blues -- Post-tenure reviews in the University of Texas System now have more teeth. There and at other colleges, defining the process can be challenging.
Bonuses and Furloughs -- Faculty members are protesting after Howard University doled out $1.1 million in administrator bonuses and then announced a budget shortfall.
NEW TO THE COMMUNITY
Welcome to the new and renewing annual contract recruiters that signed on with Inside Higher Ed in March. Openings at these schools are now making our Dual Career Search even more useful to job seekers - and to other institutions in their communities.
© Copyright 2018
Inside Higher Ed
Inside Higher Ed • 1015 18th Street NW, Suite 1100 • Washington, DC 20036